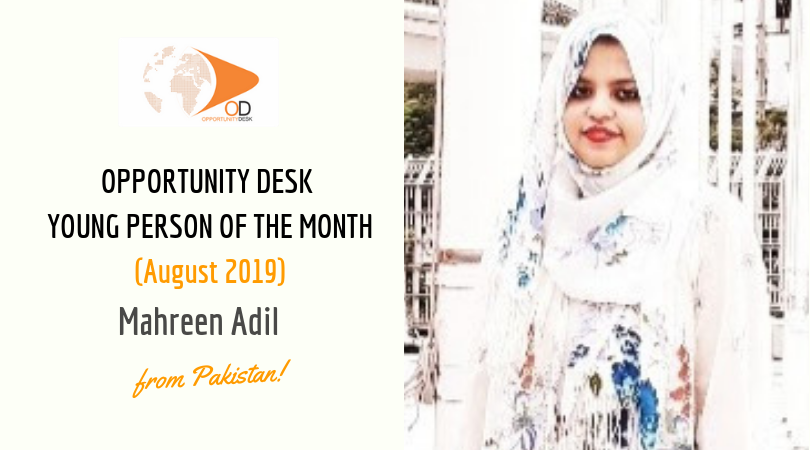 Mahreen Adil from Pakistan is OD Young Person of the Month for August 2019!
Welcome to August!
Our Young Person of the Month is Mahreen Adil from Pakistan! Mahreen Adil works as the global schools' ambassador for the SDSN youth program under the United Nations. She is a recipient of the Global Youth Peace Ambassador award and has also served as the youth minister for finance and revenue at the National Youth Parliament of Pakistan. She has represented Pakistan at the Asia Pacific Youth Exchange under the Urban Youth Academy and the United Nations.
She was also awarded the Best Content award at the Asian Youth Leaders' Conference in Singapore and has also served as a mentor at The Citizens' Foundation, an NGO serving to impart education to the marginalized communities in Pakistan. She has faced many challenges as Pakistan is a very conventional society in terms of women empowerment but she has never given up. It is her advice to the youth to never think their dreams are small or that they do not have the resources to achieve them. She is very passionate about global goals and as a part of her future plans, she wants to make this world a more sustainable place for people.
Read her amazing story below and be inspired!
MAHREEN ADIL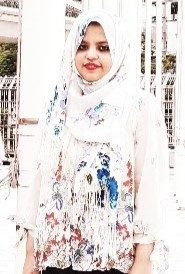 Mahreen Adil currently works as the Global Schools' Advocate at the UN Sustainable Development Solutions Network – Youth, being the first one in Pakistan to be selected for this role. She began her SDG journey back in 2017 when she joined the Asia Pacific Youth Exchange under the UNESCAP and The Urban Youth Academy in Thailand where they worked on creating sustainable development projects based on the global goals.
Being a social science major and holding a postgrad degree in economics and finance, she was always inclined towards working for social causes and policy development. She discovered her love for teaching and also works as a freelancer educationist. Mahreen has also mentored at The Citizen's Foundation, an NGO catering to the educational needs of marginalized communities in Pakistan.
Her Successes
Mahreen Adil has thus far represented Pakistan at many local and international platforms and was also awarded the Global Youth Peace Ambassador's medal by the RAFY NGO in the Maldives. Back in 2017, while she was representing Pakistan at the Asian Youth Leader's conference, she received the award for the Best Content on her work on population dynamics and food insecurity in Asia. Mahreen was also the only Pakistani to represent her country at the Global Millennium Summit in Dubai. Mahreen says, when she began this journey, she didn't think she would make it this far considering Pakistan as a society where there is still very less exposure for women and women are mostly very subdued and stay at home.
Coming from such a society and country, Mahreen considers what she does no less than a huge feat.  She was invited to speak at the youth assembly at United Nations and was also chosen as the SDG action plan executor by Merit 360. Mahreen believes never giving up on our dreams is the key to success.
As part of her future course of action, Mahreen plans on working for global goals and making this world a more sustainable and amazing place to thrive for future generations.
Her Advice to the Youth
Never think that your work is not impactful and insignificant. Start small and then reach the zeniths of success. You will face obstacles but that is the beauty of life. Smooth roads never make skilled drivers.
Learn more about the Global Schools Program.
——————————————————————————————————————————
Who will be the Next Young Person of the Month?
You can be the next Opportunity Desk Young Person of the Month! All you have to do is get a friend to recommend your work or fill out the nomination form here.  We want to use the platform to recognize and celebrate the efforts of amazing young people around the world. O! And you must be an active Opportunity Desk member, either as a fan, reader or subscriber!
Don't miss any updates in the future.
Join Opportunity Desk on Facebook (166.8k+), Twitter (30.5k+), Instagram (16.7k+), FB Group 70.3k+) or join our 71k+ Email Subscribers below!