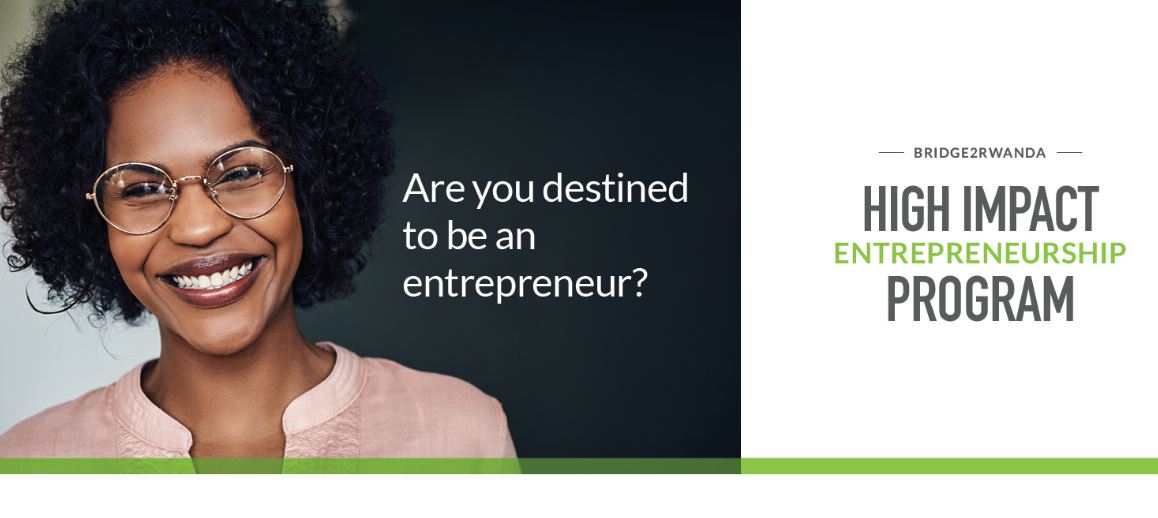 Bridge2Rwanda High Impact Entrepreneurship Program 2019 for Rwandans and Kenyans (Fully-funded)
Deadline: August 19, 2019
Are you destined to be an entrepreneur? Join a world-class entrepreneur development program – the Bridge2Rwanda High Impact Entrepreneurship Program 2019.
In September 2019, Bridge2Rwanda, is expanding its work by piloting an entrepreneurship development program. The High Impact Entrepreneurship Program is aimed at high potential university graduates who are intent on solving Africa's biggest problems through entrepreneurship.
Selected graduates will be given the opportunity to participate in a fully funded entrepreneurship program delivered by experts from across the continent and Harvard Business School, that will equip them with the necessary skills and mindsets to become innovative high impact and responsible entrepreneurs.
Benefits
The Program is fully funded including transportation allowance and on-campus meals. Travel and accommodation will be arranged for Rwandan graduates living outside of Kigali and Kenyan graduates for the period of the Program blocks.
Eligibility
Open to citizens of Rwanda and Kenya
Applicants must be between 21 and 35 years old
Applicants must have a bachelor's degree/baccalaureate degree from a reputable/accredited university and must provide a certified copy of the qualification with final year academic transcripts
Applicants must be 0-5 years post university, no formal work experience is required, entrepreneurial experience recommended
Students must be available for all assessments and interviews (both online and face- to-face) between 19-30 August
Applicant must be or intend to become an entrepreneur
Program Dates
Orientation: Online Orientation 2 September
Block 1: Harvard Business School Online Core – 4 September to 16 December
Theme(s): Business essentials including Business Analytics, Economics for managers and Financial Accounting
Block 2: Ethical Leadership – 30 September to 4 October- (Rwanda)
Theme(s): Responsible entrepreneurship
Block 3: Personal Development & Opportunity Recognition- 11-15 November – (Rwanda)
Theme(s): Finding your IKIGAI
Block 4: Human-Centred Design Thinking- 9-13 December (Rwanda)
Theme(s): Idea formulation and validation
Application
For more information, visit Bridge2Rwanda.