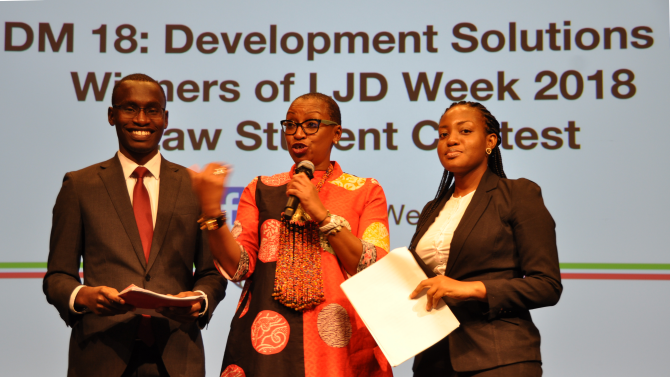 LJD Week 2019 Law Student Contest for Development Solutions (Win funded trip to World Bank HQ in Washington, DC)
Deadline: August 11, 2019
Entries are invited for the LJD Week 2019 Law Student Contest for Development Solutions. As the World Bank endeavors to become a global knowledge bank, there is a constant need to innovate and generate fresh ideas and solutions around development topics.
Following last year's successes, the Law, Justice and Development (LJD) Week Law Student Contest for Development Solutions shall continue to foster innovation, produce legal solutions to development challenges, and provide a venue for young law school students to contribute to meaningful discussions around legal and development topics.
LJD Week 2019 student contestants are requested to answer the following question in no more than 3500 characters: What technological initiatives or measures should World Bank member states support or put in place to enhance the rule of law and provide improved access to justice for individuals and groups in your country with the intention of reducing poverty and boosting prosperity?
Prizes
Top two winners will be invited on a fully financed trip to the World Bank Group Headquarters in Washington D.C. to present their proposals at the Law, Justice and Development Week 2019, to be held on November 4-7, 2019.
Top seven submitters will be able to publish their ideas on a World Bank Group Blog platform endorsed by the Senior Vice President and World Bank Group General Counsel. These ideas will be circulated among all LJD Week 2019 participants and promoted through social media channels.
Eligibility
Open to currently enrolled undergraduate or graduate level law school students (pursuing L.L.B., J.D., L.L.M. and other similar academic programs);
Must hold citizenship from any World Bank member state; and
Be aged between 18 and 28.
Selection Criteria
Winning submissions will be selected on the basis of the following criteria:
Relevance and timeliness to LJD Week 2019 theme;
Potential impact of the proposal;
Clarity of content presentation;
Originality and creativity;
Innovation;
Practicality; and
Potential for scale-up.
Application
For more information, visit LJD Week 2019 Law Student Contest.