My friend Angela (not real name) reached out to me to help her confirm the authenticity of a conference invitation she received, only that it was already too late, she had been scammed!
She received an email inviting her to attend a conference in the United States of America. The conference was to be held in one of America's popular cities and the theme was exactly in her area of work and interest. Excitedly, she sent a reply thanking them and accepting the offer. It looked so real, so why not? Well, the series of emails that followed had my friend gulled into sharing her personal details, passport data page and paying a huge deposit for hotel reservation, all in a bid to facilitate her visa application and conference arrangement. Sadly, she found out too late that she'd been scammed!
Like Angela, everyone wants an opportunity to travel/study abroad! This may sound cliche but its the plain truth! Many people are in constant search for opportunities to study abroad, visit a new country, attend a conference, or win a fellowship. You've probably received a spam email at some point, and often it's easy to tell what's the real deal and what's not. But in recent times, fraudsters have started sending invitations to fake conferences and programs. They make you send in your personal details, and even make payments in advance. Sometimes, they craftily design it in such a way that makes it difficult to know whether it's genuine or not.
These scammers are aware how hard it can be to get selected for a global opportunity and so they prey on this weakness by deceiving people with enticing invitations to conferences and programs that do not exist. With upsurge in the number of platforms sharing information about opportunities, it is easy for scammers to also advertise.
So, if you are wondering how you can determine if a global opportunity is actually a scam, here are six signs to watch out for!
Unsolicited invitations and opportunities you did not apply for: If all of a sudden someone tells you you've won a lottery, but you know you never bought a lottery ticket, what will be your reaction? That should be the same reaction if you're contacted out of the blues, about an opportunity you did not apply for. Most opportunities require you to apply, so the organizers can access how you stack up or fit their goals. For others, the invitation could be sent based on recommendation – you can tell the difference.
Poor grammar and too many typographical errors: Grammatical and typographical errors should easily raise your suspicion. Genuine global opportunities are usually organized by reputable organizations that would have their copywriting properly done by professionals. Scan through the emails and the website and if you find unexcusable errors, this is a red flag!
When they ask for personal details: You should be worried if the email asks for your personal details, especially if they ask for information that you would never put on your CV. If you do not understand the rationale for certain sensitive data, you should be careful.
When payment from you is required: If the first thing you are asked to do when you get an invitation is to pay, be very weary, be afraid, take to your heels! This is a strong tell-tale sign that this opportunity might be fake. This is not to say that every paid opportunity is scam, no! However, if payment is genuinely required for things like

registration

, you would be well informed upfront during the call for application.
Undue sense of urgency to take a certain action: Nothing says scam louder than a very short deadline or timeline for taking action about an opportunity. Fraudsters often use fear and sense of urgency to manipulate people into taking actions like making requested payments, sending personal information, clicking a link, etc.
It feels too good to be true: When an opportunity feels too good to be true, it often is. Trust your instincts and take a step back to analyze the opportunity. Possibly invite a second eye that will be more rational, knowledgeable and less excited about the opportunity, to give you valuable feedback.
_____________________________________________________
STEPS TO TAKE
1. Do a thorough background check
The first thing I did when my friend reached out, was to look at the first email that was sent to her. There were too many red flags from the title to the first paragraph alone. If you find multiple errors in words and sentences, that's a first sign.
Of course, you know the number one place to go to for your search – https://www.opportunitydesk.org. If its not on OD, it may not be real 🙂 so do yourself a favor.
They will tend to advertise on mediums used by consultancy firms and real employers to entice people. Moreover, they make promises about getting you a job offer, for example, that is actually non-existent and all they ask for in return is a payment for their so-called services.
2. Take a step back
Don't let anyone rush you, take a step back and rethink each opportunity you come across and ask questions like; is this realistic ? Is this from an existing and reputable body? Is the email address of the sender publicly published or acknowledged as legitimate ? When you're in a hurry, you'd often make mistakes which can land you in the nets of fraudsters.
3. Report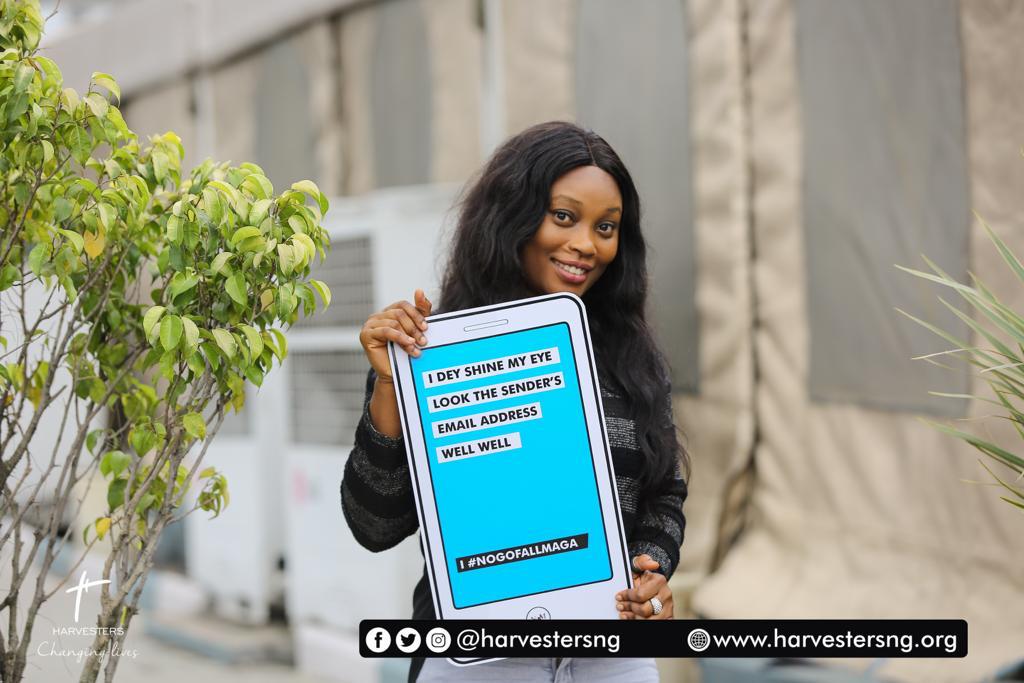 If you have established beyond doubt that the opportunity is a scam, it's often a good idea to report it to fraud fighting body like NoGoFallMaga by emailing [email protected]. This action will ensure the scam format you encountered is publicized and other people will easily identify and not fall prey.
About the Author: Grace Ihejiamaizu
Grace is a Social Entrepreneur, Educator and Mandela Washington Fellow working to promote quality education and empower the next generation of leaders and entrepreneurs. She is the founder of OpportunityDesk.org and is committed to ensuring everyone, everywhere has equal access to opportunities.
Contributions from Confidence Stavaley.