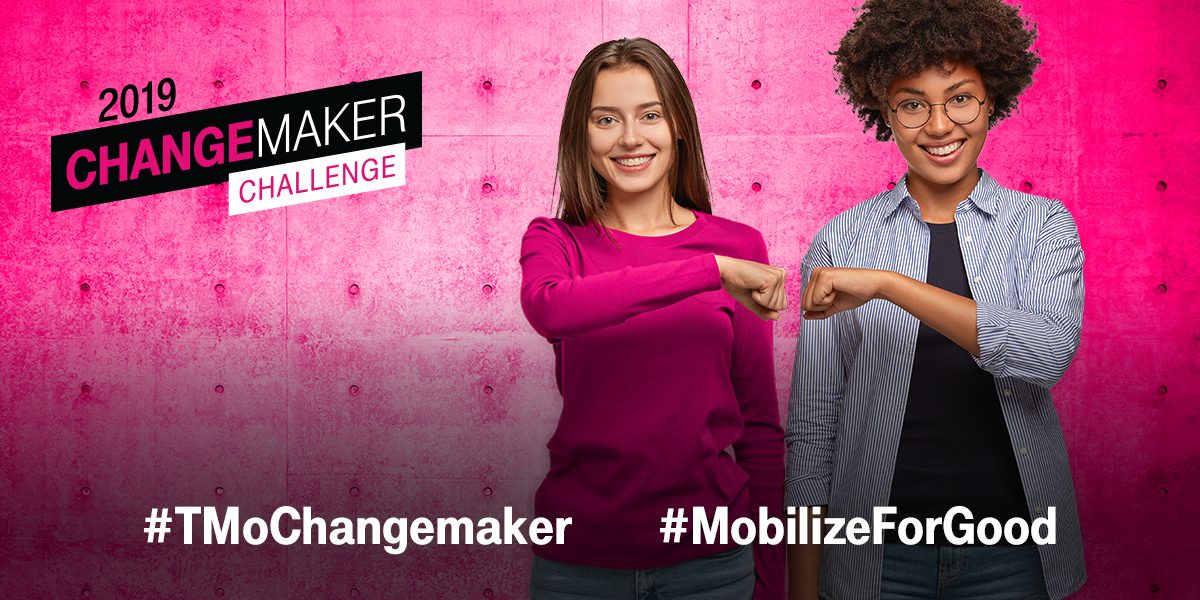 T-Mobile Changemaker Challenge 2019 for Young Leaders in US and Puerto Rico (Win $2,000 seed funding plus more)
Deadline: September 26, 2019
Are you a young person with a bold new idea? Are you committed to transforming society for the better? As change accelerates in every part of the country, with it comes important implications for people and the planet. Now is an extraordinary time to be a young changemaker.
T-Mobile, the T-Mobile Foundation and Ashoka are teaming up again this year to kick off the Changemaker Challenge 2019. This annual nationwide contest gives trailblazing young leaders the stage. It's an opportunity to take your ideas for creating more connected, sustainable and inclusive communities and make them a reality. Teams can enter the Challenge for the chance to receive seed funding and an on-site Changemaker Lab experience at T-Mobile HQ.
Categories
This year, they are looking for bold ideas in the following areas:
Technology – Ideas and solutions that make technology a force for good. Examples of ideas you may submit include but are not limited to:

Build a community of women in engineering to increase representation
Develop an app that allows young people to find free Wi-Fi in their neighborhood to improve access
Create a platform that shares resources and opportunities to support first generation college students

Environment – Ideas and solutions that improve the health of our planet. Examples of ideas you may submit include but are not limited to:

Redistribute unused food from local schools and restaurants to feed those in need
Establish an organization dedicated to promoting green energy and reducing local dependence on fossil fuels
Reduce clothing waste by collecting and up-cycling t-shirts

Education – Ideas and solutions that fuel all types of learning both in and outside of classrooms. Examples of ideas you may submit include but are not limited to:

A program that fosters a more inclusive environment for students with special needs in general education
Create an in-school program that connects students with technology resources to help bridge the Digital Divide
Develop a game requiring teamwork to build stronger social emotional skills
Awards and Benefits
In November, T-Mobile will announce the Top 30 teams – 10 from each of the three categories. Each team will receive $2,000 seed funding and an all-expenses-paid trip to T-Mobile's Bellevue, Wash., headquarters in December for the Changemaker Lab, a three-day immersive experience in which teams will receive mentorship from T-Mobile executives, skills training from Ashoka and network opportunities with other amazing teams.
From the Top 30 teams, the best in each of the three categories will receive $3,000 additional (for a $5,000 total) seed funding and the opportunity to pitch their projects to senior leadership teams of T-Mobile and the T-Mobile Foundation.
From the 3 Category Finalist teams, one selected grand prize winner will receive $5,000 MORE seed funding (for a total $10,000) and a SECOND all-expenses-paid trip back to T-Mobile's HQ for further hands-on mentorship to continue supercharging their ideas.
From the T-Mobile Family Challenge applicants, three Category Winners will be selected. They will also be invited to the Changemaker Lab at T-Mobile headquarters and receive $2,000 in seed funding. One team will also be selected as the Grand Prize winner to receive $3,000 additional seed funding (for a $5,000 total) and the opportunity to pitch their idea to senior leadership.
Eligibility
Participants must be between the ages of 13 to 23 by December 1, 2019 and be a resident of the United States or Puerto Rico;
Entries must be in one of the areas of interest: Technology, Environment, Education;
One application per initiative and per person will be accepted;
Two participants (plus a chaperone if under 18) per winning team will travel for the Changemaker Lab;
Previous 30 Winners from the Changemaker Challenge 2018 are not eligible;
If you applied last year and were not one of the 30 winning teams, you can re-apply.
Applications can be submitted only in English;
Employees of T-MOBILE USA, INC. or T-Mobile Puerto Rico,LLC, their parent companies, affiliates and subsidiaries, joint ventures, participating advertising and promotion agencies are only eligible to compete in the specific challenge in place for those individuals with formal ties to T-Mobile. One can apply for this challenge by selecting the option marked "Yes" for the question "Are you employed by T-Mobile or related to an employee of T-Mobile?" when completing the application.
Selection Criteria
The selection committee will be looking for Changemakers who provide strong answers to a range of questions about what your initiative does, how it runs, and your changemaking story. Remember, they are looking for innovative and creative ideas at all stages of development, which means it can be a young idea, or a fully baked one!
Entries will be evaluated on the following criteria:
Changemaker Quality: You identify as a Changemaker and are already taking steps to make a real difference, big or small.
Creativity: Whether you're tackling a new challenge or bringing a different perspective to an existing problem, you're doing it in a fresh and innovative way that challenges the norm.
Commitment: You're ready to stick by your project and leave a lasting impact. You may have mapped out a full plan or could just be in the idea stage, but you are ready to go beyond a one-time activity to make a difference in the future.
Connection: You are focused on making a difference in a community that is close to you and your experiences. You are open to connecting with others and working together to solve the problem you care about.
Application
Click here to submit your entry
For more information, visit T-Mobile Changemaker Challenge.