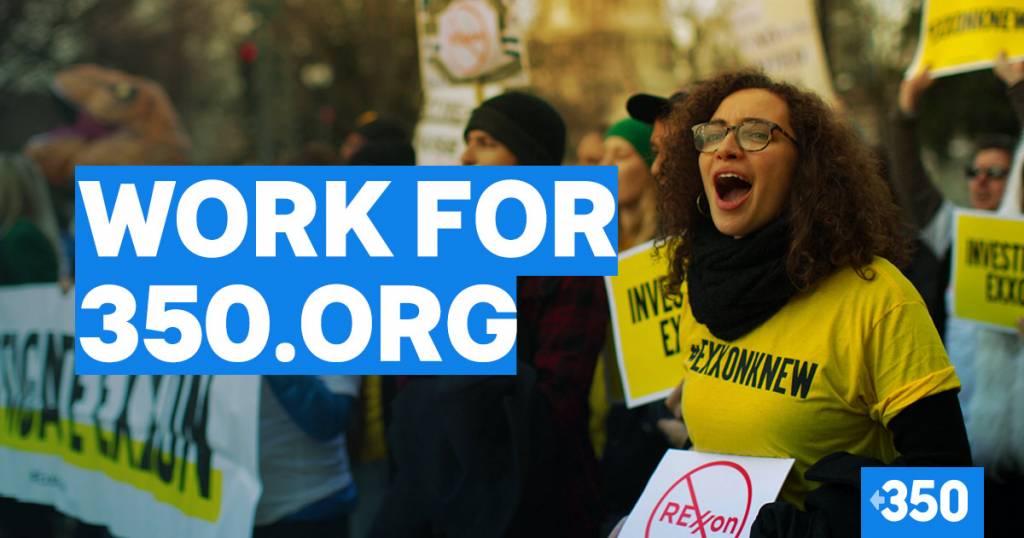 Apply for the Africa Digital Organizer Position at 350.org
Deadline: January 31, 2020
Applications are open for the Africa Digital Organizer Position at 350.org. They are looking for a skilled and strategic Digital Organizer, who is committed to climate justice, to drive bold, effective multi-platform digital campaigns in Africa.
350.org is building a global grassroots movement to solve the climate crisis. Their online campaigns, grassroots organizing, and mass public actions are led from the bottom up by thousands of volunteer organizers in over 188 countries. 350.org works hard to organize in a new way—everywhere at once, using online tools to facilitate strategic offline action. They want to be a laboratory for the best ways to strengthen the climate movement and catalyze transformation around the world.
Job Summary
This is a remote position which may be based anywhere in Africa. Successful applicant will carry out the following duties:
Social Media

Using social media, including emerging networks and tools, to accomplish campaign and mobilising goals
Developing and implementing regional social media plans for events, days of actions and campaigns
Writing email blasts, blog posts and Twitter updates
Regularly post and facilitate online conversations in social media that helps transition one from being an audience to a campaign stakeholder
Developing plans to increase followers on Facebook, Twitter, Instagram and websites

Communications Support

Feeding regional campaigns stories into global communications and narrative
Coordinating with photographers and videographers to produce high quality multimedia for campaigns
Planning and leading on African rapid-response online campaigns around a variety of targets

Digital Support

Coordinating and implementing a variety of web and design project
Developing, implementing and monitoring digital strategy/digital organising strategy
Monitoring national petitions created and managed by volunteers and/or partners and support them
Monitoring, supporting, training and managing activities on our "local 350" platform
Coordinating live coverage and report­ back of campaign events
Contribute in terms of crafting and segmentation of messages that the organization will be releasing in public

Web Content and Development

Function as lead web developer for the organization's online infrastructure in Africa by maintaining and constantly updating the website and hosting online actions
Creates and manages campaign websites, and updates 350 central website with relevant information about Africa campaigns, climate activism, current events, and climate impacts in Africa

Public Engagement

Understand 350.org's history, campaigns, and theory of social change, and keep current with basic climate science and policy. From time to time, use this knowledge to represent 350.org's perspective in varied public venues based on geographic location and areas of expertise
From time to time, contribute work towards 350.org's overall mission that is outside of standard responsibilities and instead relies solely on geographic location or work capacity
Salary
The salary is equivalent to EGP 232,500 (Egypt), KES 2,511,000 (Kenya), ZAR 465,000 (South Africa)
Eligibility
Applicants should be located anywhere in Africa
Have 2 to 3 years of relevant work experience
Have at least two years of experience in digital advocacy or campaign work
Strong knowledge of various online campaign strategies and tactics. Ability to clearly articulate and operationalize campaign strategies and plans
Strong online storytelling skills to expand and grow 350's audience in Africa
Must embrace the principles of workplace justice, diversity and inclusion and apply them to day-to-day work. Must believe and embrace 350.org's vision, mission and progressive values.
Preferred but not required:
Previous experience in climate change or environmental role
Good verbal and written communication skills in French
Understand African climate and energy policy and integrate this into digital campaigns
Interest and passion for climate justice and other social justice issues
Proficiency in Google Suite, Slack, Zoom, WordPress
Some experience using some (or all) of: HTML, CSS, Action Kit, Action Network
Application
For more information, visit 350.org Jobs.