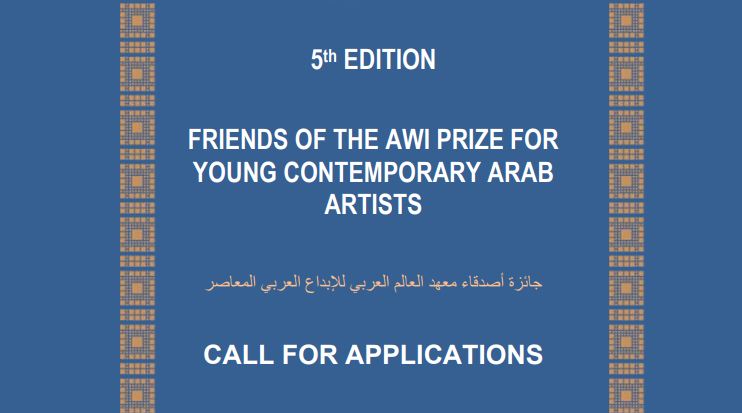 Friends of the Arab World Institute (AWI) Award 2020 for Young Contemporary Arab Artists
Deadline: October 25, 2019
Applications are open for the Friends of the Arab World Institute (AWI) Award 2020 for Young Contemporary Arab Artists. The Prize highlights emerging visual artists from the Arab World.
The Society of Friends of the Arab World Institute helps the Arab World Institute (AWI) fulfil its mission to promote the discovery and knowledge of the Arab world. The Prize for young contemporary Arab artists aims to promote emerging creative talents from the twenty-two Arab League countries and give young artists international visibility.
Launched in 2016, the Prize aims to support and help the general public discover young artists in the Arab world. The Prize aims to reveal new talent every year. Through this project, the Friends of the Arab World Institute also aims to give the general public an opportunity to see the contemporaneity of the Arab world through the unique view of a generation of artists who are under forty.
Prize
The Prize winning artist will:
Work in a residential studio in Paris for 3 months, at the Cité international des arts
Receive a grant worth 5,000 Euros
Participate to a collective exhibition in the Arab World Institute (AWI)
The awarded artwork enters the AWI museum collections
Eligibility
Applicants must be a national of one of the following countries: Algeria, Saudi Arabia, Bahrain, the Comoros, Djibouti, Egypt, the United Arab Emirates, Iraq, Jordan, Kuwait, Lebanon, Libya, Morocco, Mauritania, Oman, Palestine, Qatar, Somalia, Sudan, Syria, Tunisia, or Yemen.
Be an artist involved in the visual arts (drawing, photography, video, installations, etc.)
Aged under 40 (or aged 40) on October 31, 2019
Apply as an individual
Be an artist whose work has never been the subject of a monograph (other than in a gallery and art school).
Be able to speak some English or French
Application
Download the application form
For more information, visit Friends of the Arab World Institute Award.