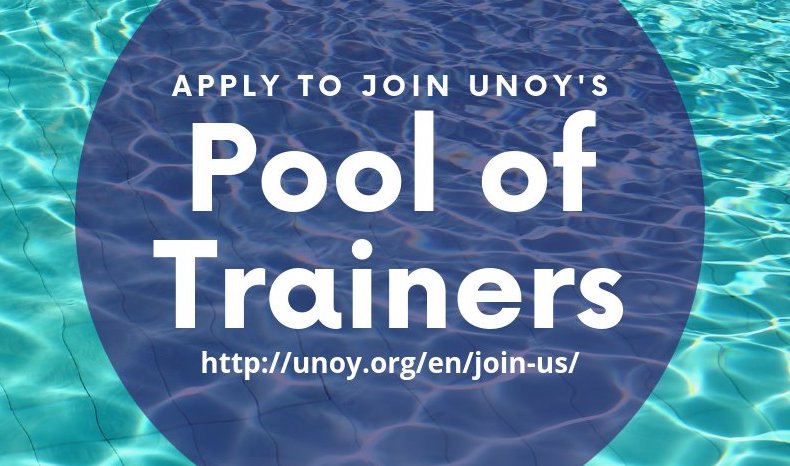 Call for Young International Trainers: United Network of Young (UNOY) Peacebuilders' Pool of Trainers
Deadline: August 31, 2019
Call for Young International Trainers! Apply to join United Network of Young – UNOY Peacebuilders' Pool of Trainers. The UNOY Peacebuilders aims to develop a Pool of Trainers which consists of young international peacebuilders that have experience in intercultural learning and non-formal learning methodologies in the context of youth work activities and peace education. Thus, UNOY is looking for ONLY 12 highly competent trainers from all over the world to join a globally credible pool.
The Pool of Trainers will be contacted frequently to provide trainers for capacity development/training activities of UNOY, its member organizations and other external stakeholders, as and when required. The trusted pool of trainers aims to increase the availability of human resources and expertise, reduce the preparation time of training projects and ensure high quality of capacity development programs.
Position
Twelve Young International Trainers
[2 from each region (1 male and 1 female preferably); Asia-Pacific, MENA, West and Central Africa, East and Southern Africa, Americas and Europe]
Roles and Responsibilities
Deliver international and regional trainings (in-person or online) in pairs; (paid)
Occasionally become members of the preparatory teams that prepare, run and evaluate training courses; (paid)
Occasionally become rapporteurs or editors for reports on trainings/consultations; (paid)
Occasionally join other trainings as external experts who provide short inputs. (unpaid)
Time commitment, as a trainer in UNOY's Pool of Trainers, is initially around 10-25 days in a year (depending upon the learning and training opportunities) and it includes both paid and unpaid responsibilities.
Benefits
Paid opportunity to deliver minimum one training (in-person or online) within two years;
Opportunity to participate once in UNOY's Training of Trainers both in-person and online;
UNOY's official Pool of Trainers certificate (upon the completion of the Training of Trainers);
Eligibility
For this role, UNOY is looking for a person who:
Is aware and acts (as much as possible) according to the 'Core peacebuilding values while training' (see page 74-75 of the UNOY Youth4Peace Training Toolkit)
Has knowledge of peacebuilding and conflict transformation concepts and approaches
Has experience in developing and delivering trainings based on the non-formal learning methodology
Has sufficient understanding of peace education in the context of 'non-formal youth work'
Is proficient in English and preferably in one of UNOY's regional languages (Spanish/Arabic/French)
Belongs to the age group of 18 and 30 years.
(Preference can be given to the trainers coming from UNOY's network, having participated in one of our activities and based on the UNOY's personal acquaintance with the said person)
Application
Candidate trainers should fill in the application form by Saturday, 31st August 2019.
Candidate trainers should provide the link of the recorded video of their session to [email protected] by Sunday, 15th September 2019.
UNOY assesses the application and the video and communicates its decision to the candidates by Thursday, 10th October 2019.
For more information, visit UNOY.