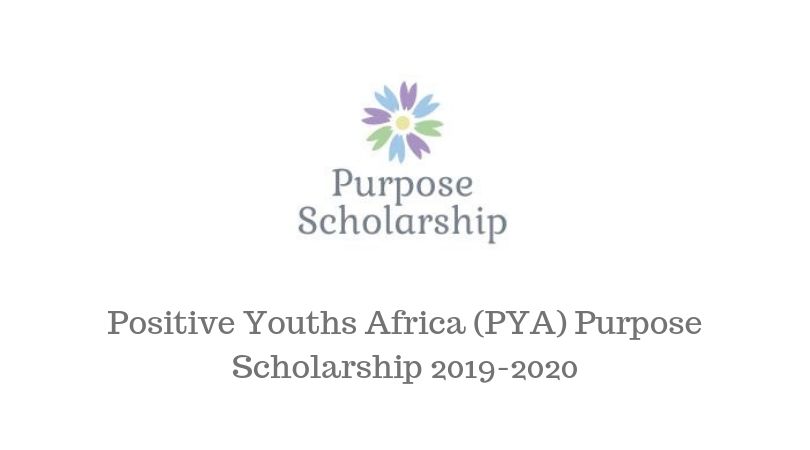 Positive Youths Africa (PYA) Purpose Scholarship 2019/2020 for Refugees and IDPs in Cameroon
Deadline: October 10, 2019
Applications are open for the Positive Youths Africa (PYA) Purpose Scholarship 2019/2020. The Scholarships are targeted at mentally traumatized refugees and IDPs living in Cameroon, especially those who have been orphaned. Through this scholarship scheme, they hope to offer educational and psychological support to refugees and IDPs between the ages of 13 to 19, helping them transform pain to PURPOSE.
Besides offering a fully funded educational opportunity to study at any public secondary school or state university of their choice, the purpose scholarship will be complimented by the #Aforgiveness project which aims to provide psychological support by helping the mentally traumatized targets heal through mindfulness and release through art notably poetry and storytelling.
The scholarship would run for a maximum of 3 years until the student graduates and shall be available to students in the following levels of education: Junior Secondary School students, Senior Secondary School students and Undergraduate studies.
Scholarship
The scholarship covers:
Approved tuition fees
Basic school needs ( exercise books, textbooks, school shoes, school bags,uniforms)
Transportation allowance
Psychological support through the #Aforgiveness project
Training in poetry and storytelling
Eligibility
Applicants must be refugees or IDPs living in Cameroon
Applicants must be teenagers between the ages of 13 to 19
Applicants must have been mentally traumatized by armed conflict
Applicants must demonstrate a strong desire to transform pain to purpose in their submitted stories
Orphaned teenagers especially the ladies are strongly encouraged to apply
Preference would be given to those who have already gained admission into a public schools or state university but lack the means to pursue their studies
Preference would also be given to those who show outstanding academic records
Preference would be given to undergraduate students who wish to study in fields of arts and literature
Selection Criteria
Applicants shall be selected on the following basis;
How inspiring their stories are
Their willingness to transform pain to purpose
Their academic records
Application
Applicants shall have to submit an online application form in which they shall recount their personal stories in 500 to 1000 words; telling how they hope to transform pain to purpose. Only shortlisted candidates shall be contacted to submit their academic certificates and transcripts.
For more information, visit PYA Purpose Scholarship.