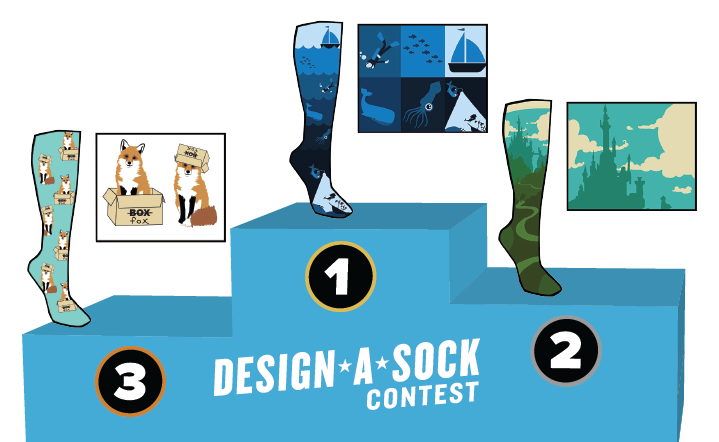 Sock It to Me Design-a-Sock Contest 2019 (Prizes up to $2,000)
Deadline: September 30, 2019
Got an idea for the best sock ever? Design-a-Sock Contest is your chance to show it. Submit your original design: you could win $2,000 and they will turn it into an actual Sock It to Me sock.
Design-a-Sock is your chance to tell Sock It to Me what you want on their socks, and maybe win the opportunity to see it produced. It also happens to be one of their favorite times of year! They get to see thousands of amazing designs and interact with all of you in a way they wouldn't otherwise.
Prizes
1st Place: Cash prize of $2,000, and 15 pairs of awesome Sock It to Me socks from our current line, and your design will be manufactured on real socks.
2nd Place: Cash prize of $1,000 and 10 pairs of socks, and your design may be manufactured on real socks, at our discretion.
3rd Place: Cash prize of $500 and 5 pairs of socks, and your design may be manufactured on real socks, at our discretion.
If they produce a winning design, there is no additional compensation to winners.
Eligibility
This contest is international and open to all ages
Residents of the following countries are not eligible to enter or win: Bosnia & Herzegovina, Burundi, Central African Republic, Croatia, Cuba, Democratic Republic of Congo, Iran, Iraq, Kosovo, Lebanon, Libya, Mali, Montenegro, Nicaragua, North Macedonia, Serbia, Slovenia, Somalia, Sudan/Darfur, South Sudan, Syria, Ukraine/Russia, Venezuela, Yemen, and Zimbabwe, and the contest is void where prohibited by law
A person can submit 5 designs
If you are under 13, a parent, teacher, or legal guardian must submit your entry
Judging Criteria
All judging will be based on the following guidelines:
Simplicity of design
Use of a maximum of six colors
Use of colors that are flat and solids, NO shading, blending or half tones
Use of pattern
Use of imagery, themes, patterns, or designs that are different from our current line
Originality
Application
You can both download your entry form and submit your finished design here or, you can mail or hand deliver entries to: 9592 SE Main St., Milwaukie, OR 97222.
For more information, visit Design-a-Sock Competition.