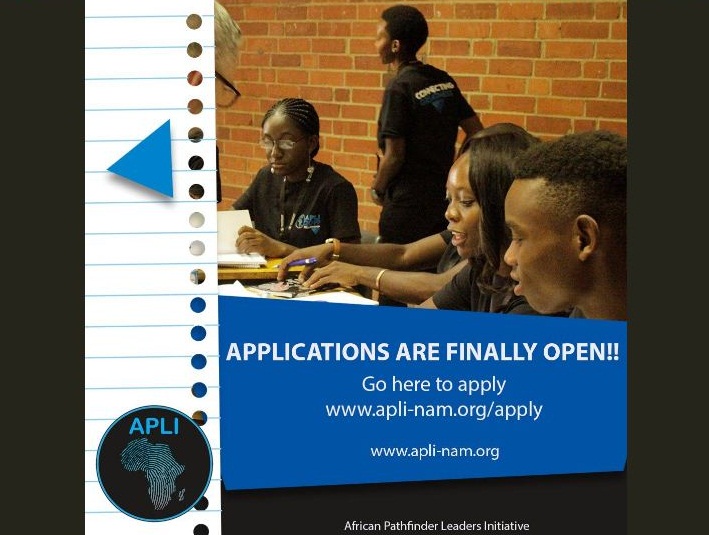 African Pathfinder Leaders Initiative (APLI) Fellowship Programme 2020 for Namibians
Deadline: September 30, 2019
Applications for the African Pathfinder Leaders Initiative (APLI) Fellowship Programme 2020 are now open. The African Pathfinder Leaders Initiative (APLI) seeks to develop changemakers, entrepreneurs and young leaders across Namibia. They endeavor to provide leadership training opportunities which equip youth with the requisite personal and professional skills and know-how to form and capitalize on existing networks.
APLI endeavors to enable young people to actively contribute to socio-economic development in their communities. The APLI Fellowship programme provides comprehensive training by integrating 3 main dimensions: leadership development, community development and entrepreneurship. The Fellowship Programme will consist of four day residential programs, three times a year (January, June and December) in different towns around Namibia. Applicants are required to attend all three programs.
Cost
Participants are to cover their own travel to the residential programme town. APLI will cover accommodation, meals and programme materials for all successful candidates. The first residential programme will take place in Windhoek in January 2020.
Eligibility
Eligible applicants are:
Between the ages of 18-25, applicants over 25 will considered on case-by-case basis;
Living in Namibia;
Genuinely committed to personal growth;
Proactive in their problem-solving approaches;
A demonstrated commitment to community development;
Intellectually mature (self-aware and intentional about their goals);
Full of potential, have a willingness to learn and be challenged.
Application
For more information, visit APLI Fellowship.