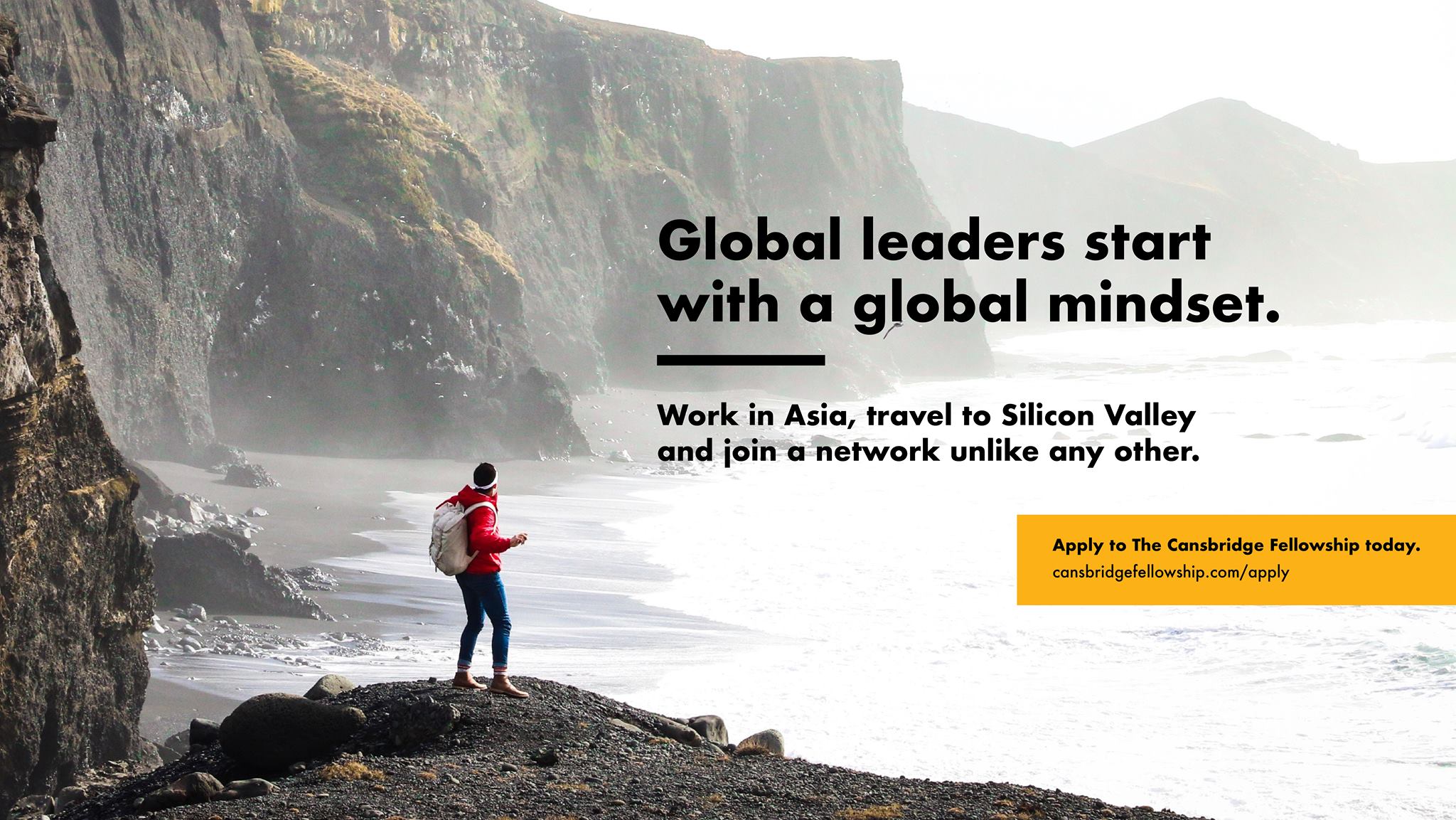 The Cansbridge Fellowship – Asia Summer Internship 2020 for Canadian Students ($6000 scholarship and more)
Deadline: October 20, 2019
The Cansbridge Fellowship is accepting applications for the Asia Internship for Canadian Students. Each year, the Cansbridge Fellowship accepts a cohort of highly ambitious Canadian students to fund $6,000 for a summer internship in Asia, attend a week-long conference in the Silicon Valley, and join a network that lasts a lifetime. The Cansbridge Fellowship offers the rare skills, experiences and network needed to build and innovate on a global scale.
They believe that the mark of a true leader is their ability to build, manage, and innovate across borders – for and with the global community. Those selected into the fellowship will be offered the rare skills, experiences and network needed in order to develop this mindset.
Benefits
The Cansbridge Fellowship program consists of 3 major components. These initiatives are explicitly designed to accelerate your career, widen your network, and develop a competitive, global mentality.
Silicon Valley Experience: All new fellows are hosted in the Bay Area for one week where they will participate in company visits, fireside chats, and a pitch competition. The week concludes with the Cansbridge Fellowship Conference (CFC) which brings together alumni, guests, and sponsors.
Asia Internship: Their fellows are granted a $6000 scholarship, enabling them to experience a self-organized internship in Asia. This internship helps fellows grow outside their comfort zones, gain international experience and build a unique professional network.
The Cansbridge Network: They are building a supportive network of high-reaching, like-minded individuals who come from a variety of backgrounds. What unifies them is the desire to be leaders of their industry and the ambition to push the boundaries of their field. Selected fellows are considered part of this network for life.
Eligibility
Currently enrolled in an undergraduate program at a Canadian University or College.
Valid passport and Canadian bank account.
Available to work in Asia for a minimum of 10 weeks during the next available work term after the Cansbridge Fellowship Conference in early May.
Available to travel to San Francisco in early May (exact date to be determined).
What they look for:
Creators, thinkers, innovators and disruptors of all shapes and sizes – because they know there's no 'one-size-fits-all' leader. In their Fellows they expect a natural fearlessness and willingness to disrupt the status quo. They look for those individuals who aim higher, push harder and recover faster than the rest, and who take real risks in order to achieve success. No matter what, your goal should be to change the world in a remarkable and significant way – they'll help with the rest.
Application
Applications close October 20, 2019 at 11:59PM EST.
For more information, visit The Cansbridge Fellowship.