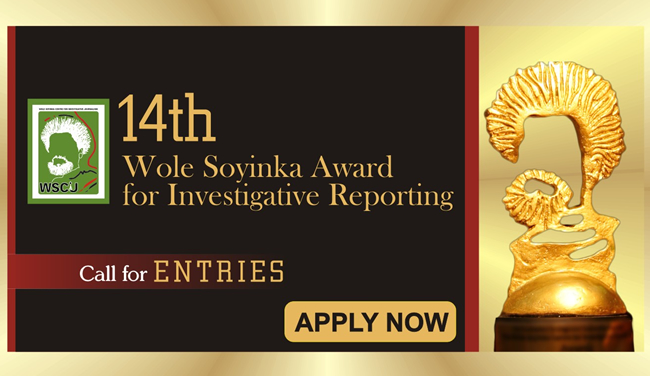 Wole Soyinka Award for Investigative Reporting 2019
Deadline: October 24, 2019
The Wole Soyinka Centre for Investigative Journalism (WSCIJ) invites entries from Nigerian professional journalists or team of journalists, full-time or part-time, for the 14th edition of the Wole Soyinka Award for Investigative Reporting.
The award, which is an annual programme of WSCIJ, seeks to honour journalism works with focus on public and or corporate corruption, human rights abuses, or failure of regulatory agencies, published or aired between October 4, 2018 and October 3, 2019. The WSCIJ has since October 2005, rewarded, promoted and encouraged the development of the culture of investigative reporting in the Nigerian media through the award, which has had thirteen editions and ninety-one finalists.
Categories
Print
Radio
Television
Photography
Online
Editorial cartoon
Eligibility
Open to any Nigerian professional reporter or team of reporters (full time or freelancing)
18-years and above;
Have published stories either online, in print, or through electronic media primarily targeted at and received by a Nigerian audience;
An applicant may only submit a maximum of two entries.
General Requirement
Entry is free.
Only a maximum of two entries across all categories of the award will be allowed per entrant.
All submitted works must be in English Language.
The reporter with the most outstanding work(s) amongst the finalists will be selected as the WSCIJ-Investigative Reporter of the year.
Entering for this competition commits you to grant WSCIJ a worldwide, perpetual, royalty-free licence to use your works for any purpose deemed appropriate for the development of the award initiative, the Centre and the Nigerian and global media.
To enhance the development of media in the country, reporters that have been winners in this competition on at least three occasions are ineligible to enter.
Employees of the WSCIJ and/or their immediate families are ineligible to participate in the competition.
WSCIJ guarantees that there is no connection between any sponsor and the judging process despite possible sponsorship of some categories of the award.
The competition shall be covered and interpreted with the laws of Nigeria.
Judging Process
Received entries will be collated using the award coding system and assessed by a panel of media experts and related professionals with good understanding of investigative reporting. The judges' board would broadly score submitted stories based on quality of investigation, evidence, human rights elements, ethical reportage, courage, individual creativity, public interest, impact and quality of presentation.
Application
This year, applicants for the Television, Radio and Online categories of the award can put in their entries through an online application process. The other three categories requiring hard copy submission given the nature of entry processing, are the Print, Photography and Editorial cartoon.
Click here for online submissions
Hard copy entries should be sent to:
The Centre Coordinator
18A, Abiodun Sobajo Street, Off Lateef Jakande Road, Agidingbi, Ikeja, Lagos, Nigeria.
For more information, visit Wole Soyinka Award.