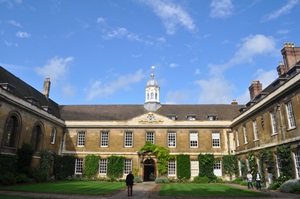 Reach Cambridge Scholarship Essay Competition 2020
Deadline: November 17, 2019
Applications for the Reach Cambridge Scholarship Essay Competition 2020 are now open. The Reach Cambridge Scholarship Essay Competition is designed for academically excellent high school students aged between 15 and 17 who would otherwise not be able to attend the Reach Cambridge programs.
The essay question for this year's scholarship competition is: "What is the primary issue facing society today and what can we do to effect positive change in this area?"
To craft a good essay requires careful argumentation, clear structure and originality. It is this set of characteristics that they will look for when judging applicants' essays. They will also take into account the letter of recommendation supplied by your school and the short video personal statement.
Prizes
Full scholarship: A fully-funded scholarship prize for one of their 2-week Programs. The full Scholarships available in 2020:

Summer: Up to 3 scholarships available
Spring: Up to 6 scholarships available

Partial scholarship: A partially funded (50%) scholarship prize for one of their 2-week Programs in either Spring or Summer 2020.
Eligibility
Applicants must be between the ages of 15 and 17 by the deadline, and currently studying at high school;
The students must complete the essays independently – they must be original, non-plagiarised work;
Applicants from fee-paying schools will only be considered if their letter of recommendation confirms that they attend the school on a scholarship.
Application
Set up a Reach Cambridge scholarship account
From your main account page, select the "Scholarship" tab on the left.
Copy your essay into the box provided (the word limit is 750 words). Answer all other questions on the page.
A letter of recommendation from a member of staff at your school must be sent to [email protected] directly, using an official school email address. This should be written on headed paper, and should outline why you are a good candidate for the scholarship: it should tell organizers what makes you academically excellent, and it must give them some indication of your financial circumstances. For example, if you attend a fee-paying school, the letter must specify whether you attend the school on a scholarship, or whether you are full or part fee-paying. It must include contact details for the member of staff so that they can contact them for further information if necessary. This is the only part of the application that should come from your school – the rest needs to be completed by you.
A short (up to 3 minute long) video should be submitted in form of a YouTube link as your personal statement. It is a chance for you to tell organizers a bit about yourself, why do you think you are the best scholarship candidate and how would coming to Reach Cambridge affect your life.
You must also complete the School Transcript, Signature, Parent Info, and School Information sections of your account. Please note that if you do not complete all these sections of your application, your application will not be considered. They should all be "ticked" on your account page before the deadline.
For more information, visit Reach Cambridge.