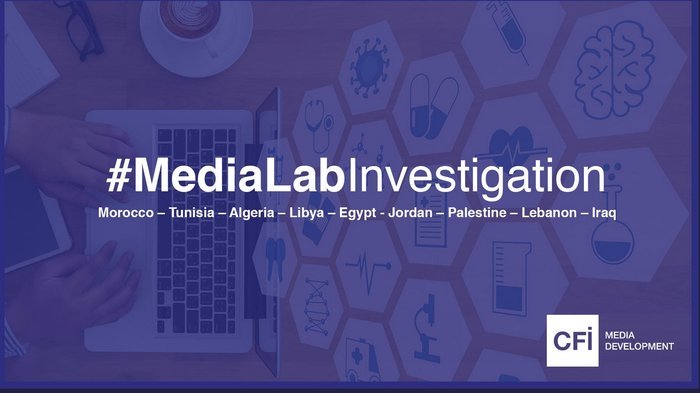 CFI MediaLab Investigation: Call for Projects to Investigate Health in the Arab world
Deadline: October 27, 2019
Are you an investigative journalist with an interest in the field of health? If so, this project is for you! As part of the MediaLab Investigation project, CFI is looking for candidates capable of producing investigations (in any medium) in the general field of health. The investigations may be conducted in one of the following countries: Algeria, Morocco, Tunisia, Libya, Egypt, Palestine, Jordan, Lebanon or Iraq.
The topics addressed must revolve around health and may relate, for example, to any of the following issues: trafficking of medicines, a health scandal, training of medical personnel, nosocomial infections, conflicts of interest, sexual and reproductive health, mental health, etc. Candidates are free to choose their medium (article, video, radio report, etc.), with long formats, cross-border investigations and investigations focused on women and gender equality being of particular interest.
Candidates must obtain the consent of a media outlet that has undertaken to broadcast their production. The outlet may work in traditional or digital media. It must have a certain reputation and demonstrate an ability to make a real impact. The outlet must be based in one of the following countries: Algeria, Morocco, Tunisia, Libya, Egypt, Palestine, Jordan, Lebanon or Iraq.
Benefits
The selected candidates will attend three training sessions run by two investigative journalists specialising in health. Experts will also be involved in training the journalists in a range of investigative techniques.
CFI will contribute €2,000 towards the cost of producing the investigation.
Eligibility
Applicants must be an investigative journalist with several published investigations to your name;
Be a citizen of one of the targeted countries;
Have a strong interest in health issues (no need to be an expert in the matter);
Be available on the scheduled dates (January, April and July 2020) and commit to attending the three training sessions scheduled as part of the project;
Commit to taking an active part in the remote supervision sessions with the two journalists responsible for overseeing the investigations;
Provide a letter signed by a media outlet based in one of the targeted countries and including an undertaking to broadcast the production.
The content may be produced in either Arabic or French.
Application
The following documents are required for complete application:
A selection of your published investigations
A list of the tools you use in your investigations and your level of competence with each tool
An outline of the proposed investigation (synopsis)
A presentation of the media outlet that will broadcast the production
Your CV
For more information, visit CFI Media.