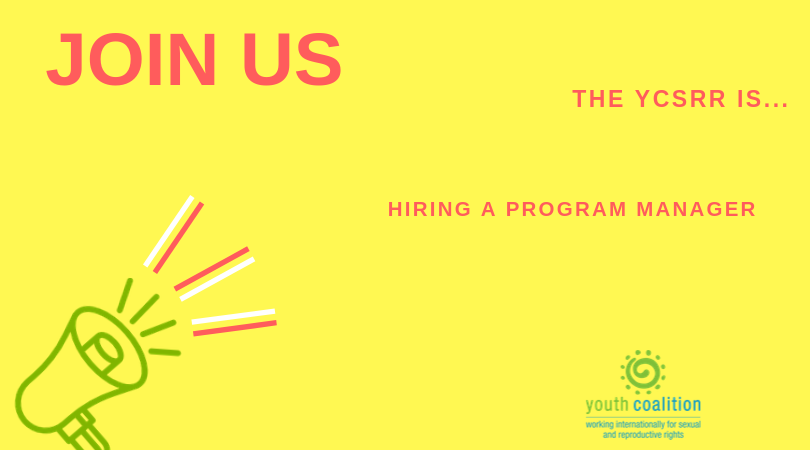 Youth Coalition for Sexual and Reproductive Rights (YCSRR) is Hiring a Program Manager in Ottawa, Canada
Deadline: November 17, 2019
The Youth Coalition for Sexual and Reproductive Rights (YCSRR) is looking to recruit a full-time Program Manager. This position will lead the ProJeunes Project a three-year Global Affairs Canada funded project in Benin (2018-2021). The successful candidate will also support the day-to-day activities of the YCSRR.
The Program Manager will be supervised by the Executive Director of the YCSRR and will work closely with colleagues from CARE Canada and CARE Benin, among others. The ideal candidate has strong project management skills, is fluent in both French and English and has a passion for youth and adolescent sexual and reproductive health and rights. This is a 12-month contract with the possibility of renewal.
About
The YCSRR is an international organization of young people (ages 18-29 years) committed to promoting adolescent and youth sexual and reproductive health and rights at the national, regional and international levels. They are volunteers from all over the world, with a small team of staff based in Ottawa to support us in this mandate. They are students, researchers, lawyers, health care professionals, educators, development workers, and most importantly, they are all dedicated activists.
Together, they work to ensure that the sexual and reproductive rights of all young people are respected, guaranteed and promoted, and strive to secure the meaningful participation of young people in decision-making that affects the lives of young people and adolescents. They do this through advocating, generating knowledge, sharing information, building partnerships, and training young activists.
Position Details
Location: The position is based in Ottawa, Canada. YCSRR is not in a position to sponsor candidates for a work permit. As such, applicants must be legally able to work in Canada.
Expected start date: December 2nd 2019
Remuneration: 40,000 – 47,000 CAD annually.
Benefits: The YCSRR provides staff members with an excellent benefits package.
Responsibilities and Tasks
Program Management of the ProJeunes Project (75%)
General Program Support (25%)
YCSRR Benefits
Opportunity to work in an entirely youth-led, innovative, and social justice driven international organization
Small but mighty team that offers flexible working hours and work culture
Opportunities to travel internationally and take on diverse and challenging responsibilities as a youth SRHR advocate nationally, regionally, and internationally
YCSRR offers a competitive salary commensurate with experience, and includes a comprehensive benefits package
Eligibility
Required
Excellent spoken and written French and English – this is a bilingual imperative position (oral and written french skills will be tested)
A degree in a relevant field (e.g. Global Health, Development Studies, Human Rights, Gender Studies) or equivalent work experience
Demonstrated success managing international projects, complying with partnership agreements, and building rapport with stakeholders resulting in stronger partnerships
Experience in monitoring and evaluation of projects and programs
Experience and/or knowledge of one or more of the following areas: gender, public health, adolescents, youth, rights and/or community development
Knowledge of the issues surrounding youth and adolescent sexual and reproductive health and rights including, but not limited to, child, early and forced marriage, comprehensive sexuality education, and sexual and genderbased violence
Strong commitment to the principles of anti-oppression practices and demonstrated commitment to YCSRR principles and values
Demonstrated capacity to work both in a self-directed manner and collaboratively with other staff and stakeholders
Demonstrated ability working in multicultural work environments
Detail-oriented with strong time management and organizational skills
Willingness and ability to travel internationally regularly, particularly to Northern and rural parts of Benin
Desired
Involvement in a youth led and/or social change initiative, organization, or network
Understanding of the policies, practices, and requirements of Global Affairs Canada grants
Experience working or living in a developing country
Demonstrated experience in Sub-Saharan Africa; experience in West Africa, and particularly Benin, would be an asset
Experience working in government, intergovernmental or international NGOs
Experience in innovative approaches to monitoring and evaluation (i.e. creative and participatory M&E practices such as photo voice and storytelling)
Experience working with volunteers and with remote teams
Familiarity with Results Based Management (RBM)
Note: YCSRR is an organization of young people under 30 years old. Applicants must be 29 years old or younger in order to be considered for this role. All members and staff age out of the organization at 30 years old.
Application
Interested candidates should send a cover letter and resume in one pdf (3 pages maximum) to [email protected] by 11:59 pm EST on Sunday, November 17th 2019.
For more information, visit YCSRR.