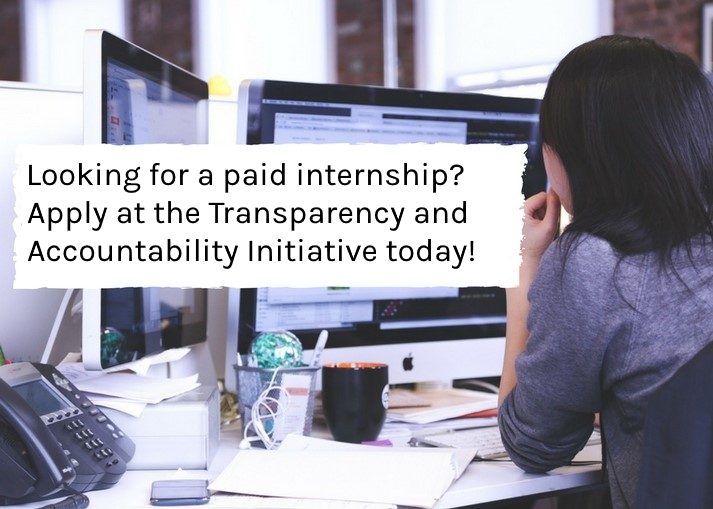 Transparency and Accountability Initiative (TAI) Student Fellowship – Spring 2020 (Stipend of $2,500)
Deadline: November 10, 2019
Apply now for the Transparency and Accountability Initiative (TAI) Student Fellowship – Spring 2020. TAI is seeking a student based in the Washington DC area to join their team as fellows for approximately 24 hours per week in Spring 2020 from January 13 to April 10, (with the week of February 10 off) but exact dates are negotiable.
Fellows will have a diverse and evolving range of responsibilities, flowing directly from the team's emerging needs. As TAI maintains a lean team, fellows will have the opportunity to make a significant contribution to TAI's work and the transparency agenda. For example, fellows will have a specific research project, will play a key role in developing content for their website, lead on certain donor outreach and engagement through online mediums, support workshop design and execution (including logistics), and author material on TAI program areas.
While their team is small, TAI has a broad reach: they work closely alongside their donor members and are based in the OpenGov Hub, a co-working community of over 35 organizations dedicated to transparency, accountability, and civic engagement. Fellows will have the opportunity to continuously engage with this network to positively inform their work and to develop a nuanced perspective of the governance sector. Ideally, fellows will also share TAI's passion to build vibrant citizen-state relationships around the world and thrive in a fast-paced "start-up" environment.
Benefits
TAI offers a $2,500 stipend for the semester for this position.
Eligibility
Open to a student based in the Washington DC area.
Strong candidates will have exceptional research and writing skills, strong communication experience, and enjoy working collaboratively.
Graduate students are strongly preferred.
Candidates must have current authorization to work for an employer in the U.S.
Application
To apply, send an email briefly outlining your interest in the role together with your CV/resume and a brief writing sample to [email protected] with the subject line "TAI Spring Fellowship Application".
For more information, visit TAI Fellowship.