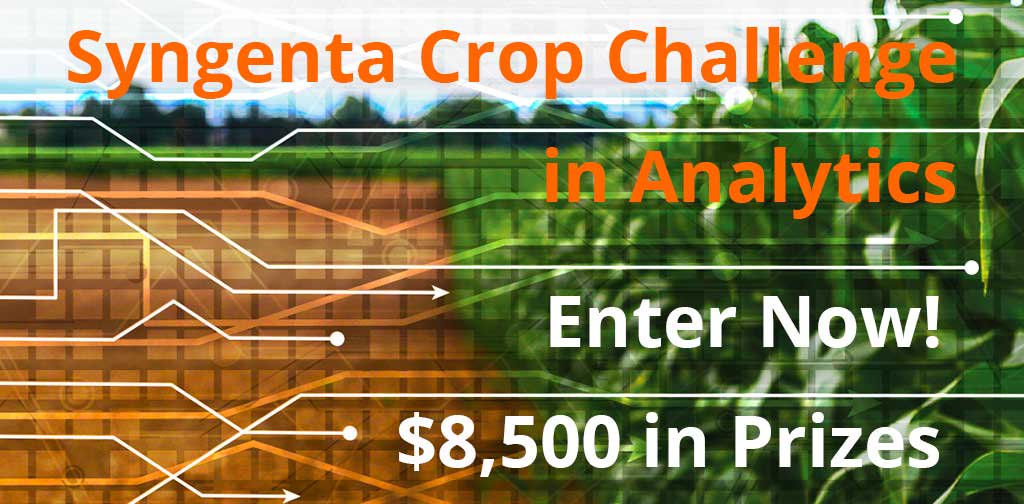 Syngeta Crop Challenge in Analytics 2020 ($8,500 in prizes)
Deadline: January 21, 2020
Enter the Syngenta Crop Challenge and put your analytical skills to the test for a chance to win up to $5,000. The objective of the contest is to estimate yield performance of the cross between inbred and tester combinations of commercial corn in a given holdout set.
Today, the agriculture industry works to maximize the amount of food we gain from crops by breeding plants with the strongest, highest-yielding genetics. Plant breeding is complex, and data analytics can help scientists at research and development organizations like Syngenta make advances in seed product development.
Syngenta has proven that data-driven strategies can help their industry accelerate innovation and breed better seeds that require fewer resources and are adaptable to more diverse environments. Developing models that can predict the performance of potential corn products can help scientists more accurately select seeds that increase the productivity of the crops farmers plant – and will help address the growing global food demand. How can we use data to accomplish this?
Prizes
Selected finalists will be invited to make a presentation of their submission at the 2020 INFORMS Conference on Business Analytics and Operations Research, holding from April 26-28, 2020.
Prizes awarded will be
$5,000 for first place
$2,500 for second place and
$1,000 for third place
In the event that submissions of sufficient quality are not submitted to justify the awarding of all three prizes, the award committee reserves the right to eliminate any or all of the prize levels.
Eligibility
Open to all participants 18 years of age or older, where allowable by law, except people or organizations who are employed by a major seed company or their affiliates.
Evaluation Criteria
The entries will be evaluated based on:
Accuracy of the predicted values in the test set based on root mean squared error
Simplicity and intuitiveness of the solution
Clarity in the explanation
The quality and clarity of the finalist's presentation at the 2020 INFORMS Conference on Business Analytics and Operations Research
Application
Submissions must be in MS-Word or LaTeX format using the appropriate submission template. You can download the submission template here (.zip).
For more information, visit Syngeta Crop Challenge.