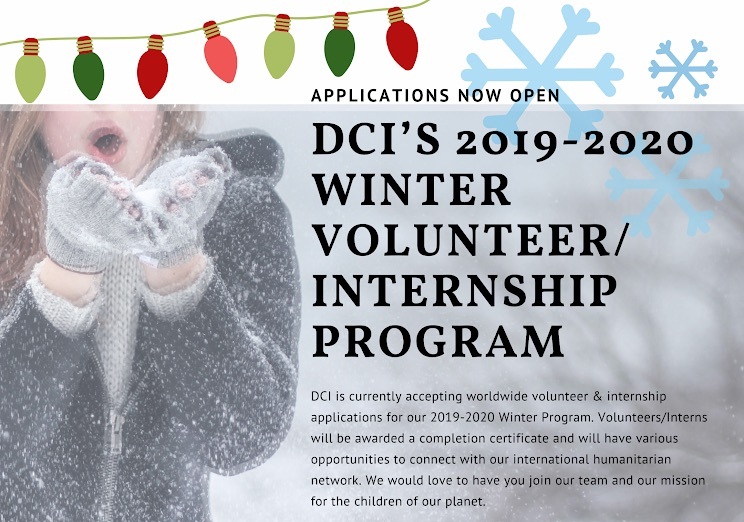 DCI Youth Winter Internship/Volunteer Program 2019-2020
Deadline: Unspecified
Applications are open for the Distressed Children & Infants International (DCI) Youth Winter Internship/Volunteer Program 2019-2020. DCI is committed to protecting child rights, preventing blindness, and ending child labor and poverty worldwide by involving, empowering, and developing the leadership of local American youth. DCI is urgently seeking motivated volunteers/interns of all ages to join their efforts.
Volunteers/interns are needed to assist with office tasks, including communication, mailing, bookkeeping, event planning, marketing, social media, graphic design, video editing, fundraising and IT support. They offer flexible hours and you can work at their office in Harvard Square or remotely from anywhere in the world.
DCI's volunteer program is designed according to the interests and career goals of each volunteer. DCI's motto is "Children Helping Children," and thus, they strive to create a platform and network for their volunteers' future leadership and success.
Distressed Children & Infants International (DCI) is a U.S.-based international non-profit child rights organization founded at Yale University in 2003 and now headquartered in Harvard Square, Cambridge. They are an international community who is currently helping over 10,000 impoverished children go to school + stay in school and have provided over 75,000 eye surgeries to the less unfortunate in developing countries.
Benefits
Enhance your resume by receiving volunteer credit hours, a volunteer certificate, Awards, and letters of recommendation to assist with academic and career goals.
Broaden your global perspective, become an effective cross-cultural communicator, and develop leadership and team building skills.
Gain valuable first-hand work experience and knowledge of non-profit organizations.
Step by step support for your future professional careers using DCI's international professional network support.
Make a difference in the lives of others and more!
Eligibility
Open to youth, adults and humanitarians who are passionate about child/human rights.
Application
For more information, visit DCI Internship.