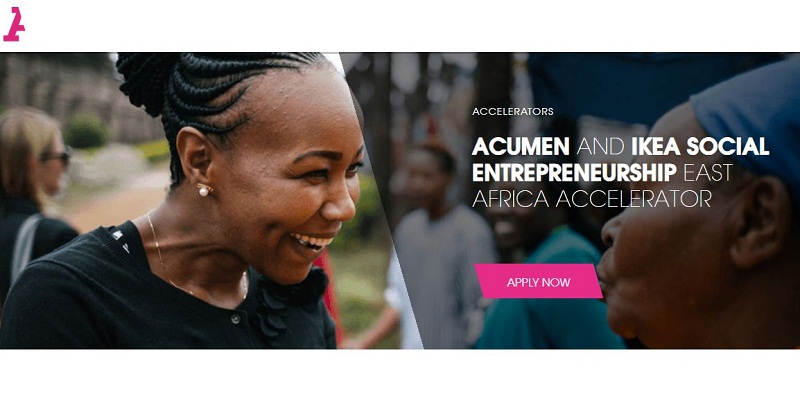 Acumen/IKEA Social Entrepreneurship East Africa Accelerator 2020 (Up to $25,000 in seed funding)
Deadline: January 14, 2020
Applications are open for the Acumen/IKEA Social Entrepreneurship East Africa Accelerator 2020. In partnership with IKEA Social Entrepreneurship, Acumen has packaged this accelerator program designed to support social entrepreneurs to develop a scalable business model.
This 19-week program will strengthen the capacity of social enterprises in East Africa to scale and improve the lives of the poor and vulnerable. IKEA Social Entrepreneurship is an initiative within IKEA that's all about making a positive impact. It works with pioneers and pathfinders who use their business as a way to make everyday life better for those who need it most and strives towards a more equal and inclusive society.
Participants in the program will
Refine and test hypotheses for developing a scalable business model
Develop a robust social impact and financial strategy
Gain best practices for forming partnerships to achieve scale
Learn from practical case studies of other East African social enterprises that have successfully scaled
Pitch your business to investors and other stakeholders at a final showcase
Build networks with other entrepreneurs and supporters in East Africa and beyond
Benefits
Participants will:
Learn to scale their social enterprise business model
Receive individualized support from IKEA coaches and Acumen facilitators
Get to be part of a dynamic peer community of social enterprise leaders
Get to take part in a final summit to network with investors and supporters
Have an opportunity to be one of two teams who will be selected for $25,000 in seed funding
Eligibility
You are qualified to apply if you:
Run a social enterprise (nonprofit or for-profit) based in Kenya, Uganda, Rwanda, or Ethiopia
Have demonstrated market traction and are post-revenue
Have a team equivalent to 3 full time staff
Focus on promoting livelihoods, equality and inclusion
Application
For more information, visit Acumen-IKEA East Africa Accelerator.