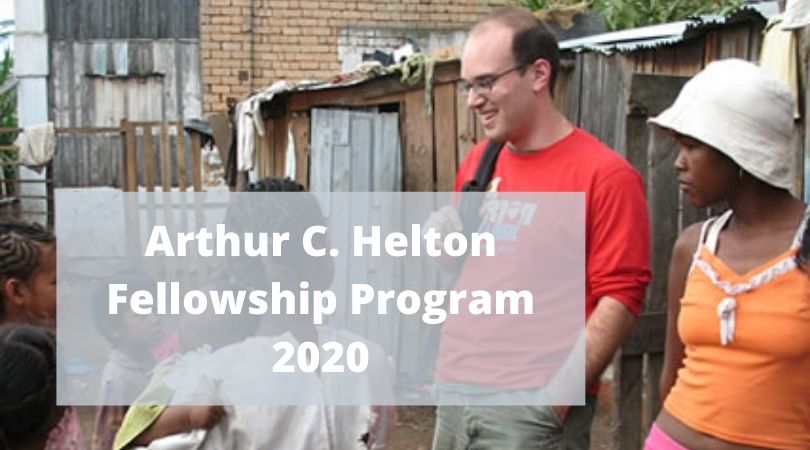 Arthur C. Helton Fellowship Program 2020 for Law Students and Professionals (up to $2,000)
Deadline: January 27, 2020
Applications are open for the Arthur C. Helton Fellowship Program 2020. Established in 2004, the Arthur C. Helton Fellowship Program recognizes the legacy of Arthur Helton, a prominent human rights advocate and ASIL member. Helton died in the August 19, 2003 bombing of the UN mission in Baghdad together with UN High Commissioner for Human Rights Sergio Viera de Mello and 20 others.
Funded through the generous support of the Planethood Foundation and ASIL members, Helton Fellowships provide financial assistance in the form of "micro-grants" of $2,000 for law students and new professionals to pursue field work and research on significant issues involving international law, human rights, humanitarian affairs, and related areas.
Helton Fellowships are intended to provide modest funding that can make the difference in enabling future international lawyers, scholars, and advocates to pursue a life-changing professional experience. Helton Fellowship micro-grants are intended to contribute to paying for logistics, housing and living expenses, and other costs related to the Fellow's international law fieldwork and research.
Eligibility
The Helton Fellowship Program seeks applicants in the early stages of their academic and professional careers who demonstrate the potential to make significant contributions to the use and study of international law around the world.
Law students, practicing lawyers, human rights professionals, scholars, and other individuals seeking assistance in conducting international fieldwork and law-related research are encouraged to apply.
Applicants can be of any nationality but must be current law students or have graduated from law school (at either the undergraduate or graduate levels) no earlier than December 2017.
Application
Successful applications must be submitted by the deadline to [email protected] and must include the following materials:
Project Budget
Writing Sample (limit of 10 pages)
Current CV or résumé
Confirmation of law student status and/or date of graduation from law school
Letter of support from your sponsoring organization, including details of your proposed project, impact of the project to the sponsoring organization, on the region, or in the relevant field of international law and
Two letters of recommendation or support.
For more information, visit Helton Fellowship.