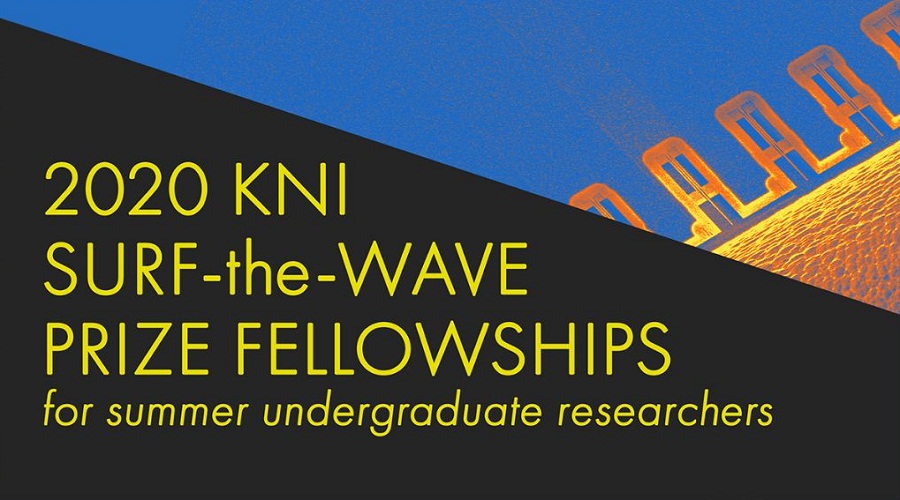 Kavli Nanoscience Institute CalTech SURF-the-WAVE Fellowships 2020 for Summer Undergraduate Researchers (Funded)
Deadline: January 12, 2020 (WAVE Fellowship) / February 22, 2020 (SURF Fellowship)
Applications are open for the Kavli Nanoscience Institute CalTech SURF-the-WAVE Fellowships Program 2020. The Kavli Nanoscience Institute at the California Institute of Technology established the SURF-the-WAVE Fellowships Program to offer opportunities for motivated undergraduates interested in carrying out a summer research project in nanoscience.
Working in conjunction with Caltech's Student-Faculty Program office and its summer undergraduate research fellowships programs, KNI SURF-the-WAVE Fellowships are designed for non-Caltech undergraduates who plan to pursue a PhD in science or engineering. The KNI is an active supporter of diversity and inclusion on campus; students from underrepresented backgrounds in the sciences are encouraged to apply.
Successful candidates will develop and conduct a research project and work alongside Caltech faculty, staff, graduate student researchers and/or postdoctoral scholars throughout the 10-week period. During the course of the summer, SURF-the-WAVE prize fellows will participate in activities within the KNI community as well as other events sponsored by Caltech's SURF and WAVE programs office.
Benefits
This prize fellowship covers the SURF or WAVE full salary, as well as up to $2,000 to defray housing expenses.
Eligibility
Open to non-Caltech undergraduates.
Research projects must be related to nanoscience and can be experimental or theoretical.
Application
For more information, visit SURF-the-WAVE Fellowships.