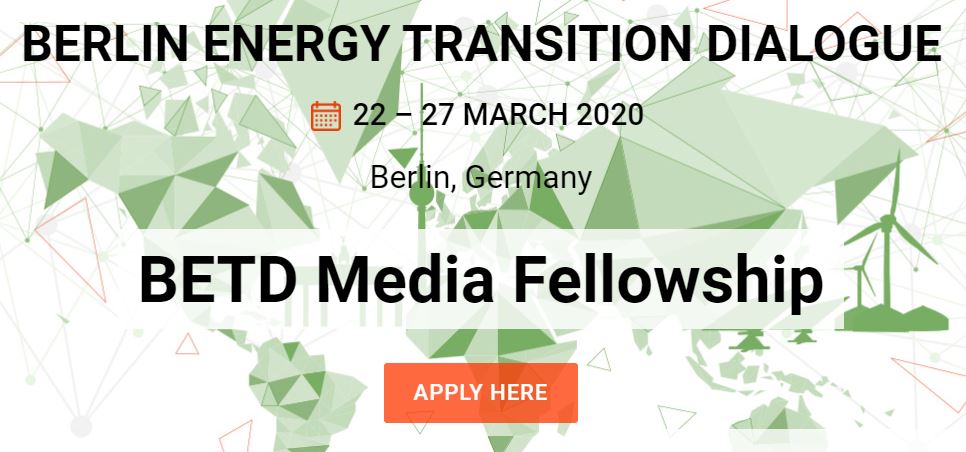 Berlin Energy Transition Dialogue (BETD) Media Fellowship 2020 for Journalists (Fully-funded)
Deadline: February 2, 2020
Applications are open for the Berlin Energy Transition Dialogue (BETD) Media Fellowship 2020. Journalists from around the world are invited to become part of the BETD conference and to report on the discussions and innovative energy solutions.
The BETD Media Fellowship allows young journalists from around the world to gather in the German capital in order to gain access to the exclusive conference, talk to high-level stakeholders from science, politics, industry and civil society, connect with other BETD Media Fellows and experience the energy transition hands-on with exclusive guided tours and side events during the Berlin Energy Week.
During the conference, the BETD Media Fellows will report on the conference sessions through
Social media channels, especially Twitter
Video clips, interviews and reports and
The official website
About the Berlin Energy Transition Dialogue 2020
The German Government invites the world to its annual inspiring dialogue on the Global Energiewende, the Berlin Energy Transition Dialogue (#betd2020), which has become the leading international forum on the green energy transformation. Every year, high-level participants from politics, industry, science and civil society gather in Berlin for two days to discuss the shift to a sustainable energy system.
In this diverse international conference, scientific expertise meets with practical know-how, policymakers encounter civil society organisations, and young and experienced generations enrich each other by working hand in hand to accelerate the energy transition.
The Berlin Energy Transition Dialogue 2020 will focus on a Global Green Deal including:
Geopolitics
Green Finance
Market Designs for Renewables
Carbon Pricing
Multilateral Cooperation and Action
Cost
The organisers will cover travel costs including board and lodging.
Eligibility
Open to young journalists from around the world
Applicants should be committed to stay in Berlin for the entire duration of the conference.
Application
Applicants are requested to prepare the following documents:
CV
Essay on your motivation (250-300 words) and
Writing samples
For more information, visit BETD Media Fellowship.