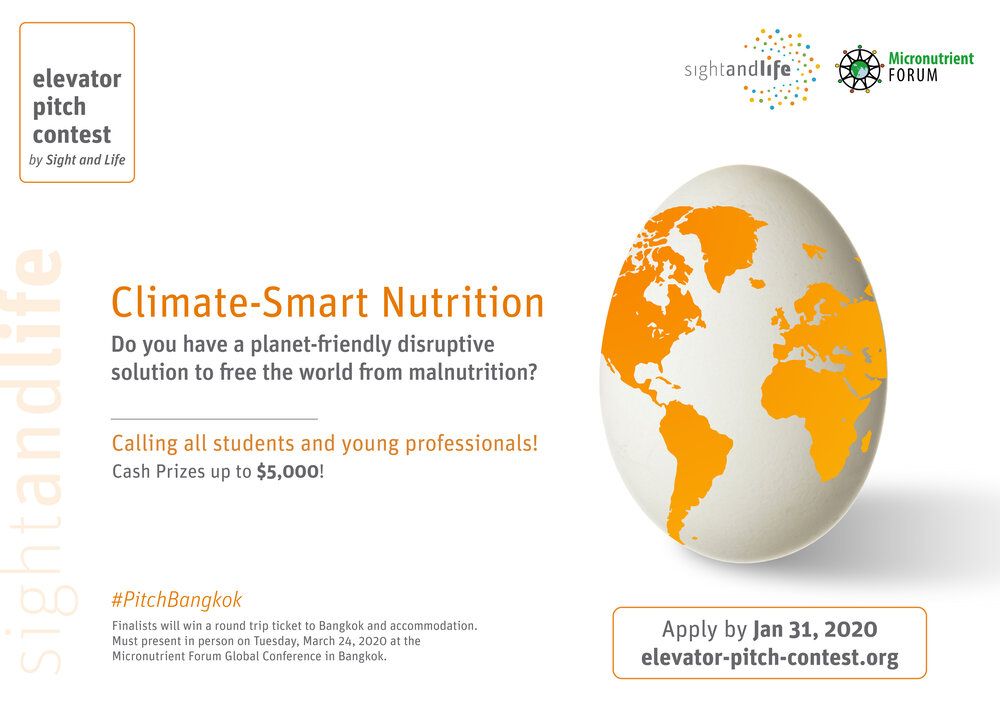 Sight and Life Elevator Pitch Contest 2020 for Students and Young Professionals (Win round trip to Bangkok + $5,000 prize)
Deadline: January 31, 2020
Entries are invited for the Sight and Life Elevator Pitch Contest 2020. Sight and Life is inviting ideas from students, young professionals and entrepreneurs to provide a planet-friendly disruptive solution to free the world from malnutrition.
They are looking for nutritional and environmental-friendly innovative solutions from a diverse category of products, technologies and services. These solutions could be innovations in products such as supplements, ingredients, livestock feed, packaging, diagnostics or services such as use of mobile technology, delivery platforms, behavior change communication, demand generation tactics and social business models.
Background
We live on a HOT, HUNGRY, CROWDED planet. Climate change, rapid urbanization and a growing population affect food and nutrition security leaving millions malnourished. Government programs supporting nutrition are underfunded, aid initiatives have a limited reach and private sector does not currently do enough to aid proper nutrition. Business as usual is therefore not enough. We need a new generation of innovators who can solve one of humanity's most pressing challenges: how can we nourish and sustain 9 billion people by 2050 without hurting our planet?
Prizes
One winner will receive seed funds of US$5000.
All finalists will win a round trip to Bangkok to present their ideas.
Eligibility
Open to all students, young professionals and entrepreneurs.
You can submit only one idea per team. The subject of the pitch must be your own idea or that of your team.
Identify one member from your team who, if selected, will pitch at the Micronutrient Forum.
Selection Criteria
Finalists will be selected based on criteria that include:
Significance of the problem, both in its severity and those affected.
Convincing evidence that better information/proposed solution could lead to improved outcomes.
Potential impact and sustainability of the initiative
Clarity of plans for testing hypothesis and securing feedback from potential partners, funders/supporters, customers/users and others.
Application
For more information, see FAQ and visit Elevator Pitch Contest.