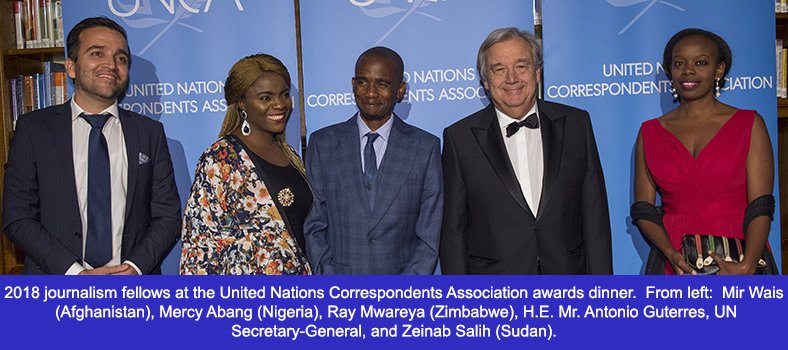 United Nations Dag Hammarskjöld Fund for Journalists Fellowships 2020 (Fully-funded to the UN Headquarters)
Deadline: March 6, 2020
Applications are open for the United Nations Dag Hammarskjöld Fund for Journalists Fellowships 2020. The Dag Hammarskjöld Fund for Journalists accepts applications from journalists from the mainly developing nations of Africa, Asia (including Pacific Island nations), Latin America and the Caribbean to cover the United Nations General Assembly for approximately 10 weeks beginning in September each year.
The fellowships offer a unique opportunity for promising young journalists from developing countries to observe United Nations deliberations and to report on its proceedings for news media in their home countries.
Over the past five decades, fellowships have been awarded to hundreds of journalists from the developing world. These awards require the presence of the selected journalist in New York during the first few months of the General Assembly session and should be regarded as an opportunity for news organizations and journalists to provide their audiences with special assignment news coverage from U.N. headquarters.
Cost
The Fund will provide: round-trip airfare to New York; accommodations; health insurance for the duration of the fellowship, and a daily allowance to cover food and other necessities. The Fund will not be responsible for other expenses of a personal nature, such as telephone calls.
Eligibility
The Dag Hammarskjöld Fund for Journalists fellowships are open to individuals who:
Are native to one of the mainly developing countries of Africa, Asia (including Pacific Island nations), Latin America and the Caribbean. For 2020 only, the Fund will not accept applications from the countries of the 2019 fellows – Egypt, Nigeria, Trinidad and Tobago and Zimbabwe – in an effort to rotate recipient countries.
Currently live in and write for media in a developing country.
Are between the ages of 25 and 35.
Have a very good command of the English language since United Nations press conferences and many documents are in English only.
Are currently employed as professional journalists for print, television, radio or internet media organizations. Both full-time and freelance journalists are invited to apply.
Have approval from their media organizations to spend up to three months in New York reporting from the United Nations.
Receive a commitment from their media organizations that the reports they file during the term of the Fellowship will be used and that they will continue to be paid for their services.
Application
Please include all of the following documents with your signed application. Applications without the following documents will NOT be considered.
Copies of representative selections of your work, such as newspaper clippings, audio tapes, video tapes or internet submissions. The selections must be work produced in 2019 or 2020 — not earlier. Entries with insight and originality will be considered most favorably. Investigative work is welcome.
Applicants do not have to write reports in English. French, Spanish, Arabic, Chinese and Russian are acceptable. For newspaper clippings not in English, include an English translation or summary.
If the reports you wish to submit with your application are posted on the Internet, please provide the URL addresses.

For audio tape and video tape submissions, include a written transcription or a summary in English, even if the originals are in English.

Video submissions should be in DVD or CD (preferably NTSC) format. Radio applicants should send a CD with MP3 formatted files.

Signed letters from two individuals who supervised you and can comment on your journalism experience and qualifications.
Endorsement of the Fellowship application from the editor or director of the news organization that presently employs you. This endorsement must be originally signed and should:

Grant you a leave of absence from your current duties in the event you are awarded a fellowship.

Agrees to continue paying you for your services during the term of the Fellowship and agrees to use the reports you file from the U.N.

States plans for using the reports you file during the fellowship.

Summary statement. On a separate sheet of paper, explain in not less than 300 words why you are applying for this Fellowship and what you expect to gain from the experience.
Two recent photographs (passport size or larger). Place these photos in a separate secure envelope and affix them to the front of your application. Do not staple the photos directly to the application form.
A copy of your passport. Applications without a passport will NOT be considered.
NOTE: Applicants and/or their employers are required to provide equipment necessary for the applicants to efficiently and effectively report from the United Nations. Such equipment should include a laptop or notebook computer, digital camera (if appropriate), audio/visual recording and equipment needed for transmission, especially for TV. Selected journalists must be prepared technically to file their news stories over WIFI, whether broadcast or print, and arrive with a computer enabled for WIFI.
Download the application form in Word or PDF
An originally completed AND signed application, along with all six (6) of the Documentation Requirements, should be sent by postal or courier service (such as DHL, FedEx, Airborne) to:
Dag Hammarskjöld Fund for Journalists
512 Northampton Street, No. 124A
Edwardsville, PA 18704 USA
For more information, visit United Nations Fellowships.