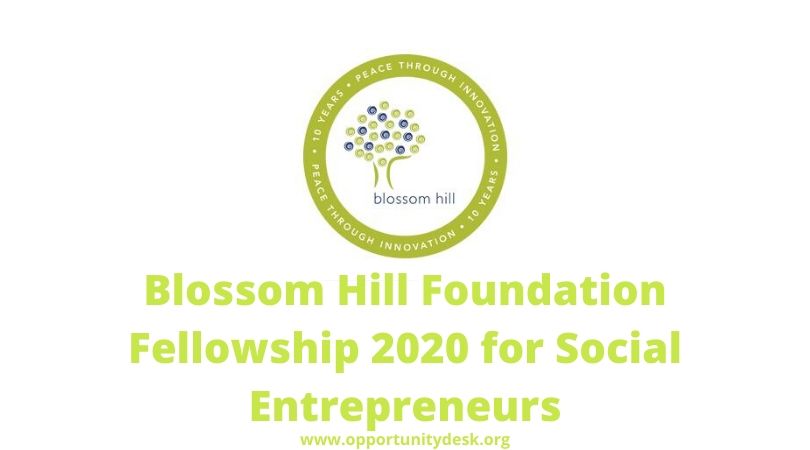 Blossom Hill Foundation Fellowship 2020 for Social Entrepreneurs (up to $50,000)
Deadline: March 27, 2020
Applications are open for the Blossom Hill Foundation Fellowship 2020 for Social Entrepreneurs. The Blossom Hill offers fellowships to social entrepreneurs who have developed an innovative approach, program, or product that positively impacts war-affected Middle Eastern communities, either in-country or displaced due to conflict.
Through the Fellowship Program, Blossom Hill is investing in the next generation of leaders who will play a pivotal role in the reconstruction and advancement of their own communities. At best, these solutions are informed and spearheaded by those who understand the situation intimately – individuals who hail from the region or are deeply connected to the Middle East and comprehend the multi-generational impact of war.
Fellowship
Fellowships are up to $50,000 a year and are renewable on a yearly basis depending on assessment and evaluation of the project's impact. Fellows who demonstrate significant impact in the community and who comply with Blossom Hill's requirements may be eligible to re-apply at nine (9) months for additional funding the following year.
Eligibility
They fund programs or products that aim to positively impact the lives of communities (children, youth, families, etc.) affected by conflict and war in the Middle East.
Initiatives can take place in the Middle East or another country where war refugee populations are prevalent and are the primary program beneficiaries, i.e., Syrian refugees now displaced in Europe.
Applicants should have significant experience and close ties with the community and culture their idea is designed to serve.
Applicants should possess the language skills necessary for the successful implementation of their proposed initiative.
Applicants must have a partner NGO registered as a U.S. 501(c)(3) charitable organization to serve as a fiscal sponsor.
Applicants must reach children and youth beneficiaries ages 24 and under to qualify for funding.
Blossom Hill seeks passionate, committed individuals with innovative ideas about how to improve the lives of war-affected children from the Middle East. They are looking for ambitious candidates who:
Demonstrate an ability to succeed and commitment to social change.
Present bold, innovative and viable approaches that address an authentic need and have potential for exponential impact.
Are accessible, responsive, articulate, proactive, and take initiative to further expand their reach .
Application
All applicants must complete an online registration form before emailing your application to [email protected] If applying as a team, both applicants must complete the online registration form, as well as the candidate profile portion.
Applications checklist include:
Completed online registration form
Completed candidate profile for each applicant (Section 1) and proposal (Section 2)
Headshot (photo in high resolution jpeg format with a minimum of 300 ppi)
Pitch Video (limited to two minutes): This is your "Shark Tank" moment – you are in front of four investors making your best pitch for why they should fund you
All attachments are in PDF format
Attached two (2) letters of recommendation per applicant
Attached required fiscal sponsor documents:

501(c)(3) determination letter
Board of Directors
Most recent financial audit
List of major supporters
For more information, visit Blossom Hill Foundation Fellowship.