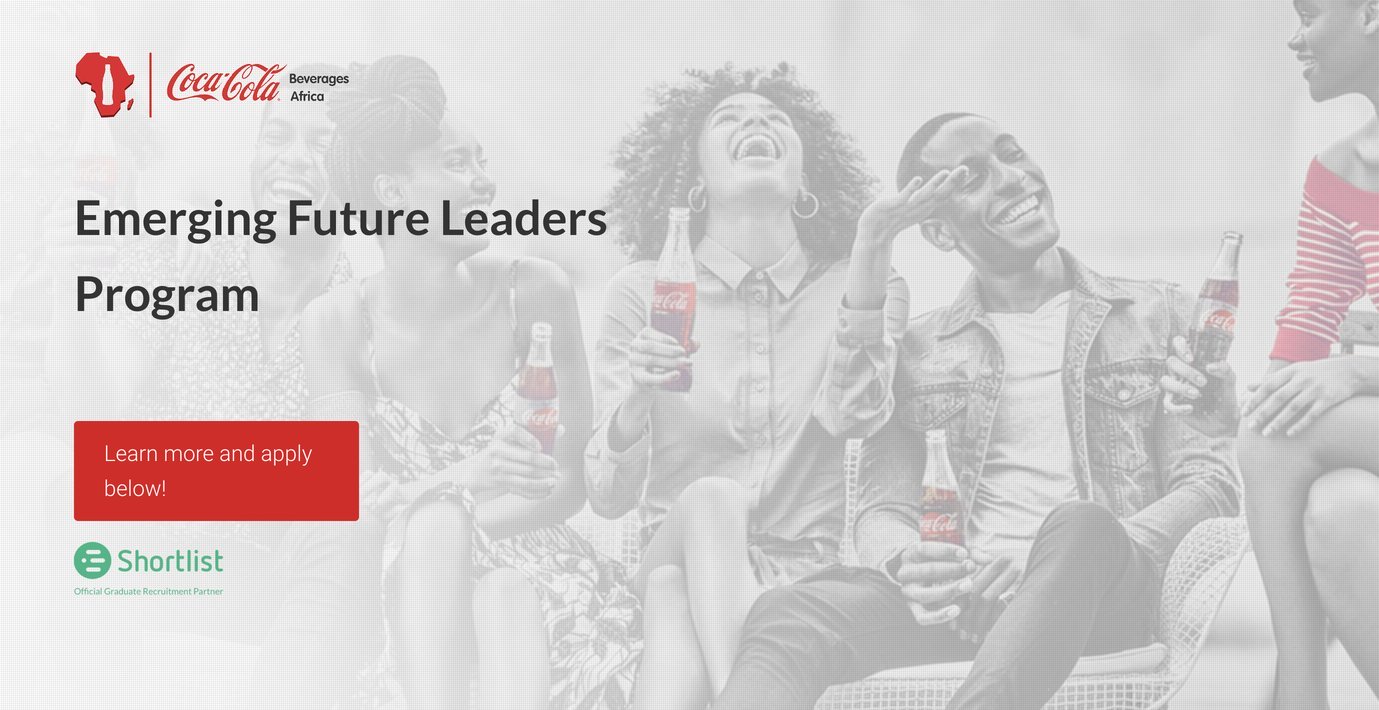 Coca-Cola Beverages Africa (CCBA) Kenya Emerging Future Leaders Program 2020
Deadline: February 24, 2020
Applications are invited for the Coca-Cola Beverages Africa (CCBA) Kenya Emerging Future Leaders Program 2020. The CCBA Kenya Emerging Future Leaders Development Program gives you the opportunity to work for the world's leading brand.
The two year program is an accelerated development program that will give you a taste of life at CCBA Kenya, excellent opportunities for career progression and learn about leadership. This program develops world class leaders through functional and cross functional rotation, challenging assignments, business projects, integrated training and development, and formal coaching and mentoring programs.
The program entails courses designed to enable the Emerging Future Leaders learn the trade, broaden their business understanding and acquire foundation functional skills. The open-door culture enables you to work directly with senior management to map your career path and ensure that your valuable contribution is acknowledged and rewarded.
Benefits
The program offers the following benefits:
Professional & Technical Skills Development
Leadership Exposure
Performance Evaluation, Coaching & Mentoring
Induction
Business Exposure
Functional & Cross Functional Rotation
Eligibility
Applicants must have graduated with an Upper Second honours or higher;
Graduated within the past 1 Year;
Be legally able to work in Kenya.
Additional Requirements
Logistics: Automotive Engineering Degree or Supply Chain or B.Com Degree.
Manufacturing: Mechanical Engineering/ Mechatronics Degree or Electrical, Biochemistry or Chemistry Degree.
Finance: Degree in B.Com Finance or BSC Actuarial Science.
Human Resources: Actuarial Science, BA Economics Degree or Social Science/ HR Degree.
Sales and Marketing: B.Commerce, Marketing or any general Degree.
Appication
For more information, visit Coca-Cola.