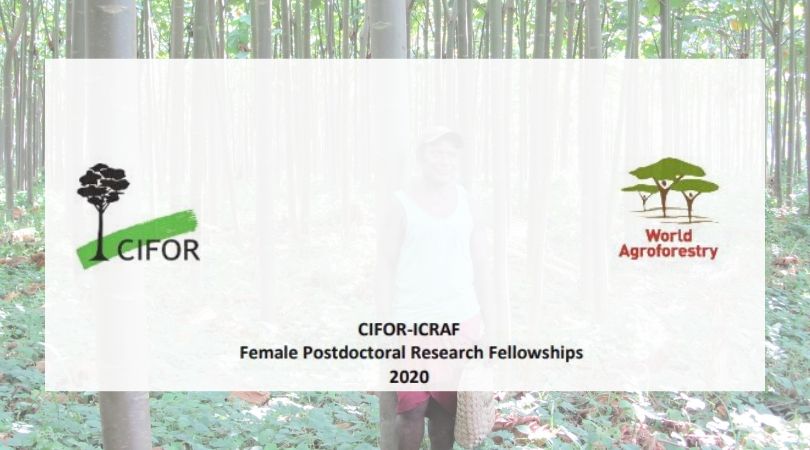 CIFOR-ICRAF Female Postdoctoral Research Fellowship Programme 2020 (Funding available)
Deadline: February 28, 2020
Applications are for the CIFOR-ICRAF Female Postdoctoral Research Fellowship Programme 2020 are now open. The Female Postdoctoral Research Fellowship Programme is offering four Post-doc positions to female scientists in various fields of research study to be hired in the 1st quarter of this year (2020) for a duration of initial one year.
CIFOR-ICRAF is committed in developing a diverse and strong pool of research scientists, both for strengthening their institutions and for the increasing needs of the world.
Scope of the Programme
Female Post-doc Fellows under the programme may propose various arrangements to be engaged with CIFOR-ICRAF including secondment from their current institutes, job-sharing, or a regular employment contract. As CIFOR-ICRAF also want to contribute to development of their partner National Research Institutes (NARIs), they are similarly open to supporting "leave of absence" arrangements, on topics of mutual interest between CIFOR-ICRAF and the NARIs.
The Post-doc Fellows may be based at one of their two Headquarters Locations i.e. Nairobi/Bogor or any of their several regional and country offices across the global tropics. The proposed term for employment is one-year, extendable subject to available funding.
Female Post-doc Fellows will be assigned a senior scientific supervisor and be a member of one or more Themes/Teams or Regions/Hubs at CIFOR-ICRAF. The Post-doc Fellows will be expected to undertake an approved research study which will include publishing of their results and presentation at international fora.
Fellowship
The request from the programme for each Fellow should cover salary, benefits, transport, computing needs, publishing, office needs and travel expenses.
Eligibility
Female postgraduates are expected to hold a Doctoral degree in a field related to agriculture, agroforestry, forestry and fields related to sustainable land management.
Whilst candidates will not be excluded on the basis of age or nationality, a preference will be given to applicants below the age of forty-five years and those from developing and/or investor countries.
Application
For more information, visit CIFOR-ICRAF Fellowship.