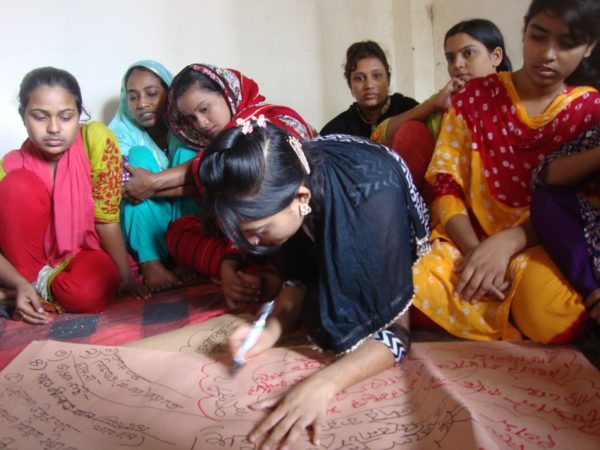 Hot Job: APWLD Calls for Liaison and Administrative Officer
Deadline: March 13, 2020
Apply to join the team at APWLD! The Asia Pacific Forum on Women, Law and Development (APWLD) is currently inviting women in all their diversities from Thailand with relevant experience in providing administrative and liaison support for the organisation to secure visa, work permit and other legal requirements for the office and its staff to work and strategically be based in Chiang Mai, Thailand.
This is an exciting opportunity that would allow the successful applicant to be part of working with the committed and growing Secretariat – secretariat that works hand in hand with the membership to advance women's human rights, women's organising power and advocate for Development Justice.
APWLD is a regional network of women's organisations and activists in Asia and the Pacific, committed to women's human rights and feminist movements. APWLD's members are drawn from 27 countries and the Secretariat is based in Chiang Mai, Thailand with a satellite office in Penang, Malaysia. If you are committed to supporting feminist, progressive movements and challenge structural inequalities, please apply to join the powerful team!
Key Responsibilities
Ensuring Legal Operations of APWLD

Deal with all administrative matters related to visas and work permits of Secretariat staff, including preparation of documents for submission to relevant government authorities.

Appraise the secretariat and the membership of new rules, regulations and laws relevant to its operations in Thailand.

Office Management and Administration

Maintain electronic and hard copies of staff files.

Maintain and order office supplies.

Support staff when they need to liaise or communicate with Thai authorities or in any emergency situation.

Assist in resolving any administrative problem.

Regularly check and monitor office space if anything needed with Admin Assistant.

Governance Support

Assist in preparations for governance meetings and other organisational matters in accordance with APWLD's constitution and by-laws and relevant Thai laws and regulations.

Liaison and Administrative Support to the Secretariat

Facilitate visa support to members, international participants and partners as required.
Facilitate travel and accommodation for members and secretariat as required.
Liaise with local service providers, including travel agents, equipment maintenance and regularly replenish office supplies.
Support staff when they need to liaise or communicate with local authorities including emergency situations.
Assist in organising local activities, including International Women's Day Events and other key activities.
Remuneration
Salary will start at 41,400 THB/month. Other benefits include contributions to an employee provident fund; a 13th month salary and annual increments. Additional housing and relocation allowances will be provided if the successful candidate is required to relocate to Chiang Mai, Thailand.
The contract is initially for a term of two years starting as soon as April 2019 with the possibility of renewal.
Eligibility
A degree in business administration, gender, human rights, development and/or related studies.
Minimum of three years working experience with diverse and membership-based women's and other civil society/not-for-profit organisations is ideal.
Proven experience of providing administrative support to national, (sub)regional or international organisations within the legal requirements and immigration laws of Thailand.
Demonstrated ability to provide administrative, visa and travel support to Secretariat/office staff and international participants.
Demonstrated management skills including administrative, budget planning, coordination in support of the secretariat/office staff, national board of Thai foundation or association.
Excellent command of Thai and English languages, in both oral and written.
Good interpersonal skills, with ability to liaise with government agencies, immigration and work within a multicultural environment; and to develop strong professional relationships with members, staff, international participants and other stakeholders.
Familiarity to use basic ICT tools such as Google Suite tools, Microsoft office products and software.
Must be able to travel overseas as required.
Application
Interested applicants should submit the following:
Online application is preferred but should email submission be easier, please send the documents via email with the subject line "Application for APWLD Liaison Officer" to Marion Cabrera at [email protected]
For more information, visit APWLD Jobs.