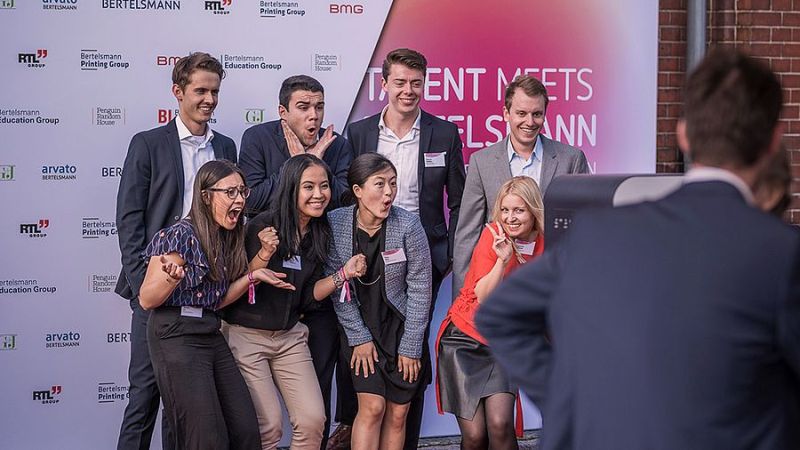 Apply for Talent Meets Bertelsmann 2020 International Networking Event (Fully-funded to Berlin, Germany)
Deadline: May 3, 2020
Applications are open for the Talent Meets Bertelsmann 2020. They're looking for talents with entrepreneurial, innovative mindsets to participate in their international networking event, Talent Meets Bertelsmann 2020, from June 29 to July 1, 2020 in Berlin, Germany.
Are you ready to shape the digital future? Are you a creative entrepreneur who is passionate about the media landscape and data-driven business models? Apply now!
What You Get
At Talent Meets Bertelsmann 2020, you can get to know Bertelsmann from an inside perspective and build a valuable network.
Use the opportunity to get to know different people working for Bertelsmann and make memories that will last a lifetime! You will become a lifelong member of the Talent Meets Bertelsmann network and enter the alumni community.
Work hand in hand with experienced Bertelsmann entrepreneurs on key business ideas and present your results in front of a jury of Bertelsmann executives.
You can look forward to an interesting event: Talent Meets Bertelsmann offers exciting workshops, time for individual career consulting at the career market and an unforgettable party with a BMG talent in concert.
Join Talent Meets Bertelsmann and gain an in-depth insight into one of the biggest media companies in the world.
Benefits
TMB will cover the costs of each participant's hotel room for two nights (June 29 to July 1, 2020), as well as travel expenses up to €300 for students coming from European schools and up to €500 for students from non-European schools.
All participants are invited to join a closed Facebook group so that you can get to know one another in advance of the event.
There will be attractive prizes for the best ideas: The winning teams can look forward to traveling to international Bertelsmann locations.
Eligibility
Bachelor, Master, MBA or Ph. D. students in business, economics, humanities, media management, journalism, business analytics or informatics, with a keen interest in media and data science
Talents who are eager to develop creative and innovative business models and who are fascinated by cutting-edge digital trends
High potentials with a passion for business, tech and creativity who have gained experience in projects outside academia
Students or graduates with above-average academic performance and strong analytical and communication skills in written and spoken English
Application
Tell us about yourself and what's your purpose in life. Let them know why you would like to join Talent Meets Bertelsmann, what fascinates you about media and data, and why you are eager to pursue entrepreneurial challenges.
Please include proof of your proficiency in English.
Once we have reviewed your application, you may be invited to the second round of the selection process, an asynchronous video interview. Alternatively, you can opt for a phone interview. If you managed to convince us, you will receive the invitation for the event soon after the interview.
For more information, visit Talent Meets Bertelsmann.