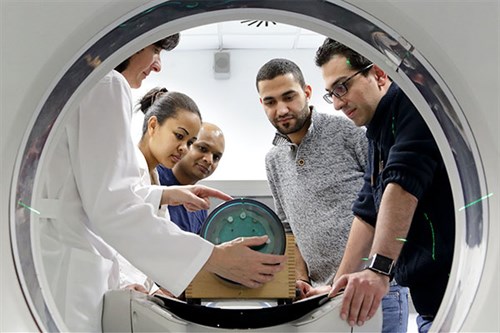 International Centre for Theoritical Physics (ICTP) Master in Medical Physics Programme 2020 (Scholarship available)
Deadline: May 31, 2020
Applications are open for the ICTP Master in Medical Physics Programme 2020. The MMP is a two-year advanced training programme run jointly by ICTP and the University of Trieste. The programme is designed to provide young, promising graduates of physics or related fields (mainly from developing countries) with postgraduate theoretical and clinical training so that they may be recognised as clinical medical physicists in their home countries.
The programme comprises a year of basic and advanced courses (taught in English) prepared with the assistance of experts from ICTP's UN partner the International Atomic Energy Agency (IAEA). This is followed by a year of professional clinical training in a medical physics department of a hospital in the programme's training network.
Cost
Qualified candidates may attend the course at their own cost.
A limited number of full or partial scholarships will be awarded to successful candidates from developing countries, thanks to the support of the IAEA, TWAS and ICTP:

Full support includes travel, registration fees and a monthly stipend of 900 Euro in the first year and 1000 Euro in the second (or a reduced amount if accommodation is provided).
Partial support can be in the form of:

Half support: travel, registration fees and a monthly stipend of 450 Euro in the first and 500 in the second year
or, only travel and registration fees.
Eligibility
Open to young (generally below 30 years of age) qualified graduates from countries that are members of the United Nations, UNESCO or IAEA.
The minimum qualification for applicants is a degree equivalent to an MSc in physics or related fields.
Candidates who have received their degree outside Italy must obtain the "Dichiarazione di valore" from the Italian Embassy in their country, testifying that their curriculum studiorum is equivalent to the Italian "Laurea specialistica". Curriculum studiorum should comprise 12 years of primary and secondary school and a University degree equivalent to the Italian "Laurea specialistica" – a university study allowing to enter in a PhD programme in her/his Country.
Application
Individuals wishing to apply for the Master of Advanced Studies in Medical Physics must complete the online application form.
The applicant has to submit a CV, a transcription of the university degree and can also submit a letter of recommendation from senior scientists familiar with the applicant. Scientists making recommendations should indicate if they have any contacts at the ICTP.
For more information, visit ICTP Master in Medical Physics Programme.