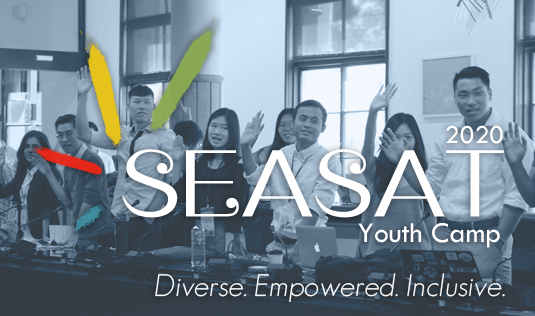 SEASAT Youth Camp Programme 2020 for Young Leaders in Asia
Deadline: April 4, 2020
Applications are open for the SEASAT Youth Camp Programme 2020. The second SEASAT Youth Camp emphasizes on the role women and gender issues play in contemporary society. After undergoing years of lobbying for inclusive policies, women and other marginalized members of society are beginning to break through barriers erected by outmoded social thinking.
With this year's theme, "Diverse. Empowered. Inclusive.," the 2020 SEASAT Youth Camp will bring together 50 promising Asian youths who share the ideals of continuing the progressive momentum for women and gender issues.
In collaboration with the American Institute in Taiwan, the 4-day camp, will expose participants to women and gender issues through seminars, workshops, educational tours, as well as a crash course on basic leadership. The Camp also doubles as a networking platform to further connect the SEASAT Youth. The Camp is scheduled to hold from July 20 to 23, 2020 in Taipei, Taiwan.
Cost
The organizers will cover all local expenses (Taiwan) incurred during the camp, including meals, lodging (4-beds per room), insurance, educational materials, and other miscellaneous fees (museum entrance fees), and local transportation for event-related activities.
The organizers will not provide subsidy/sponsorship for airfare and visa. Participants will have to cover/look for external funding for their own round-trip transportation to Taipei, Taiwan.
Eligibility
Applicants must be 18 to 24 years old;
Have interest in contemporary Indo-Pacific issues, and youth leadership;
Be citizens of Southeast Asia, South Asia or Taiwan;
Holds a passport/Means to travel to Taipei, Taiwan.
Application
For more information, visit SEASAT Youth Camp.