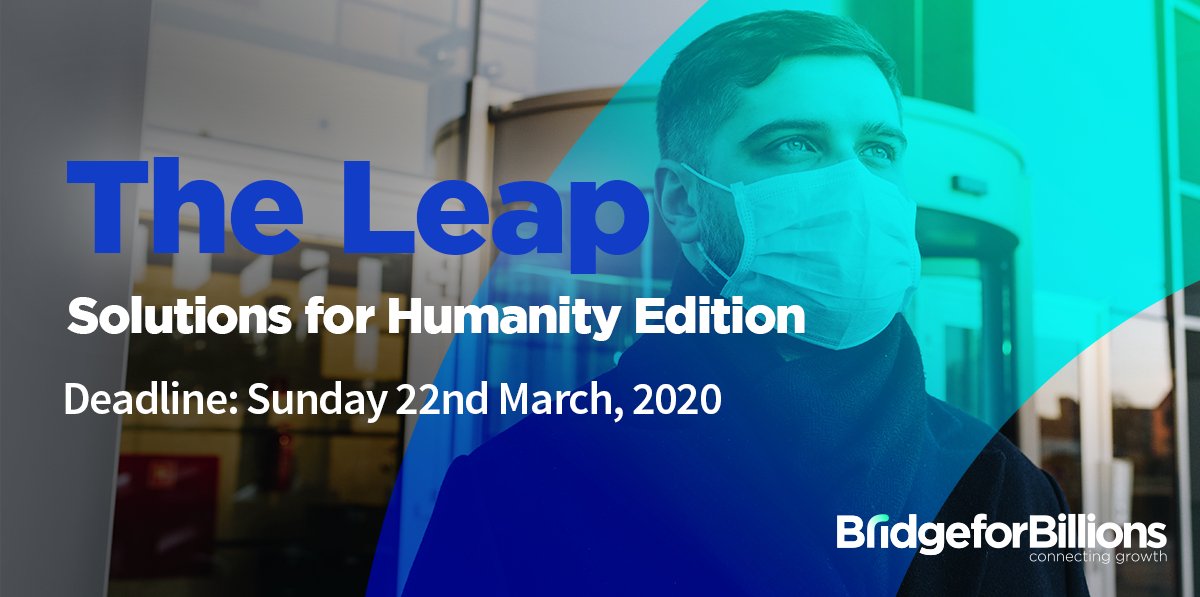 Apply for Bridge for Billions' The Leap – Solutions for Humanity Edition 2020 Incubation Program to tackle COVID-19 outbreak
Deadline: March 22, 2020
Bridge for Billions invites applications for The Leap – Solutions for Humanity Edition. They believe entrepreneurs can help solve these challenges. The Leap – Solutions for Humanity Edition is a one month fully sponsored online incubation program created specifically to support people with innovative ideas that can help combat the current epidemic.
Bridge for Billions is a digital ecosystem of entrepreneurship programs that provides the right tools & guidance to early-stage entrepreneurs to develop their companies through a learn-by-doing methodology. They have launched this sponsored online incubation program to support early-stage founders to develop solutions that will improve people's lives during the COVID-19 outbreak.
All early-stage founders with projects in the following areas are invited to apply to our one-time intensive online incubation program today.
Benefits

Free Spot in The Leap Incubation program
1 – 1 support from a professional mentor
8 online tools to help you properly structure every aspect of your business
Upon completion, you will be able to download your visual business plan to present to investors and other partners
Opportunity to win $5000 Seed funding in our bi-annual Leap Pitch Challenge
International Visibility
Eligibility

They are looking for entrepreneurs who have a solution to any of the problems caused directly or indirectly by the spread of the virus and its consequent socio-economic challenges.
Solutions can be in any one of the following sectors:
Digital Health
Work & Productivity
Entertainment & Sports
Food production & Delivery
Transportation & Logistics
Wellbeing & Mental Health
Social Assistance
Education & Children
Entrepreneurs must be from Europe.
Application
For more information, visit Bridge for Billions.