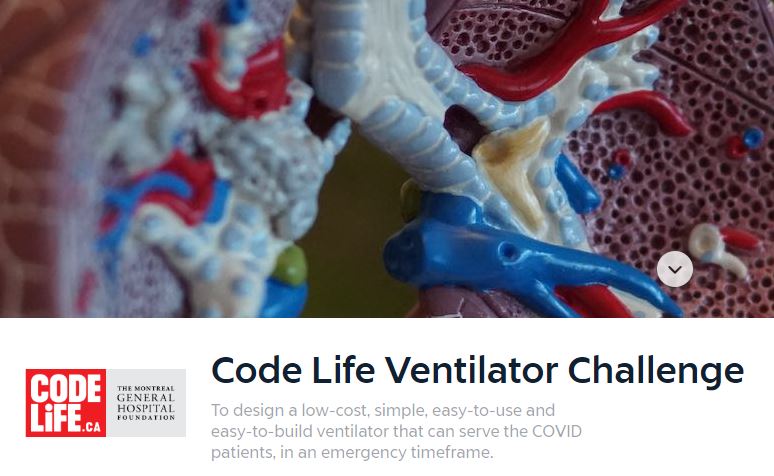 Apply for the Code Life Ventilator Challenge 2020 (CAD $200,000 prize)
Deadline: March 31, 2020
Applications are open for the Code Life Ventilator Challenge 2020. The Montreal General Hospital Foundation, in collaboration with the Research Institute of the McGill University Health Centre (MUHC), is launching a global innovation challenge, calling for teams to design a simple, low-cost, easy-to-manufacture and easy-to-maintain ventilator which could be deployed anywhere needed to save lives.
The goal of the challenge is to design a low-cost, simple, easy to use and easy to build ventilator that can serve COVID patients, in an emergency timeframe. It should be easy to build locally, must be easy to verify its functionality, and must meet the design requirements specified here.
Three finalists will be selected and their designs will be available to download for free. To motivate participation from local manufacturers, participants are encouraged to submit provisional patents prior to the announcement of final designs, while granting license to local builders to manufacture their designs during the COVID crisis.
Prize
Winner will receive a prize of CAD $200,000
Eligibility
This Challenge is open to the large public. Participants must be of legal age.
All the documents that may confirm the Participant's eligibility will be required prior to awarding any prizes (e.g. identity document, student card, etc.).
This Challenge is open to everyone. If you are related to employees of the sponsor, the affiliated institutions, or any of the judges, advisors, or experts, you MUST disclose this conflict of interest
This Challenge is void in countries where it is prohibited or restricted by law.
Team Requirements
Expertise
Each team must include at least one relevant medical professional with publicized credentials (proof of right to practice) and one relevant technical/engineering professional with credentials to approve safety requirements
Each team member must provide a short resume of qualifications relevant to the design (e.g. engineering degree, industry experience, other relevant experience)
Communication
Each team is responsible for having at least one team representative on the communication platform to answer failure reports and end-user questions
This should be maintained throughout the contest and beyond, as long as implementation of the device exists for COVID
Other communication means must be provided and kept up to date for later needs (email etc.) in case of a future crisis
Capacity and costs
Each team must have local capacity to produce, test, and demonstrate the performance of their design in accordance with the specifications.
Costs of design and prototyping are to be covered by the contestants
Application
Material to submit: design, test, and use documents (please name files with concise descriptions).
CAD drawings, 2 options:

3D files (.dwg, .stdprt, .sldasm, .ipt, .iam)
Fully annotated 2D drawings (.pdf) 3-D mesh files (.stl)

Fully annotated circuit diagrams (.pdf)
Functional bock diagram (.pdf)
Code: software/firmware. Include brief installation and user guide (.pdf)
Bill of materials (.pdf)
Clear and concise assembly instructions (.pdf)
Clear user guide (.pdf):

How to use the device
How to run a validation test and how often

How to maintain the device and clean the device, video demonstration of device (.mp4)
Test methods and test results (.pdf)
Endorsement letters from:

ICU professional (ICU Physician or respiratory technician) (.pdf)
Engineering professional attesting that safety (electrical, fire, etc.) have been met (.pdf)
For more information, visit Code Life Ventilator Challenge.