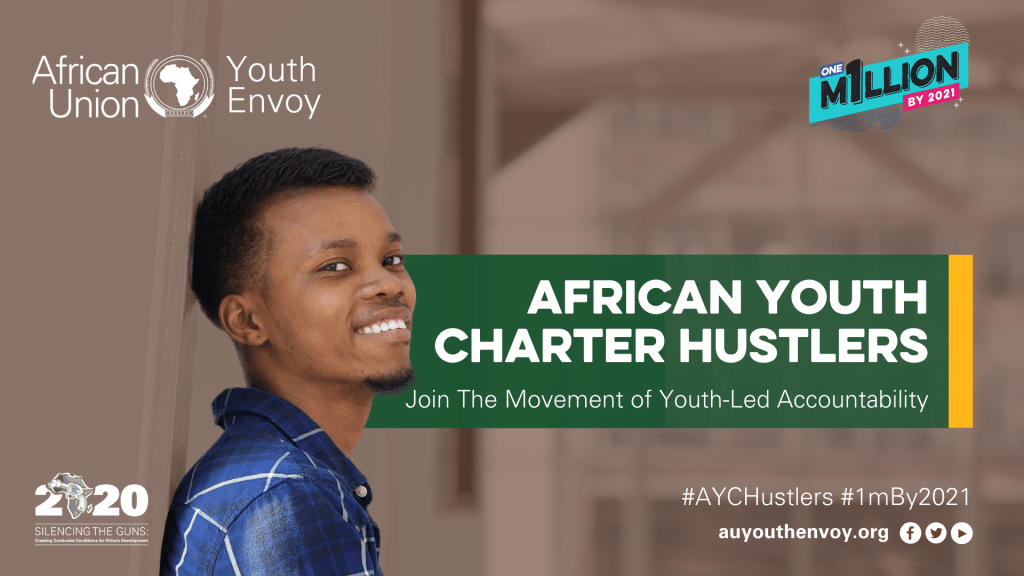 African Union Office of the Youth Envoy Call for African Youth Charter Hustlers 2020
Deadline: April 20, 2020
The African Union Office of the Youth Envoy is calling for African Youth Charter Hustlers 2020. The African Union Office of the Youth Envoy launches this new initiative to empower a movement of Pan-African youth advocates.
The initiative will engage two Hustlers per country, young male and female over a period of two years to lead continental, regional and national advocacy and accountability for the ratification and implementation of the African Youth Charter including progressive youth policies, youth funds and youth inclusion as well as the institution of effective monitoring and reporting mechanisms.
Amid the COVID-19 pandemic, they remain committed to advocating for the contribution and central role of young people to reform their institutions and transform their systems to work for our generation. Article 17 of the African Youth Charter on Health, guarantees the right of African youth to enjoy the best attainable state of physical, mental and spiritual health and institution of programmes to address health pandemics in Africa.
Why is This Initiative?
Cognizant of Africa's burgeoning youth population, with over 75% of the continent's population under the age of 35, the African Union (AU) has since prioritized the empowerment of young people as central to achieving the vision of Agenda 2063. The African Youth Charter, adopted in 2006, is a rights-based framework which guides the engagement and empowerment of youth in Africa, enshrines their rights, duties and freedoms and has spawned the action plans which have guided continental programming, most recently the African Plan of Action on Youth Empowerment (APAYE 2019-2023).
Article 28 of the Charter mandates the African Union Commission (AUC) to collaborate with governments, non-governmental institutions, and developmental partners to identify best practices on youth policy formulation and implementation and encourage the adaptation principles and experiences sharing.
In a similar vein, Article 26a calls for young people to be custodians of their own development. The AUC's youth engagement strategy is centred on youth ownership of their outcomes, youth-led accountability, and building the capacity of young Africans to undertake these responsibilities.
AYC Hustlers' Mission
Advocate for Action
Promote Africa's Model
Hustle for Accountability
Eligibility
Applicants must
Be national of the 55 member states of the African Union
Be aged 18-33 years old (as of 21 April 2020)
Have demonstrated advocacy results and impact in their work
Be committed to volunteer for two years to hustle for the Charter
Application
Are you ready to hustle for the African Youth Charter to be implemented? This call is for you! Apply to Be AYC Hustler.
Complete the application form at the bottom of this page
For more information, visit AU Youth Envoy.