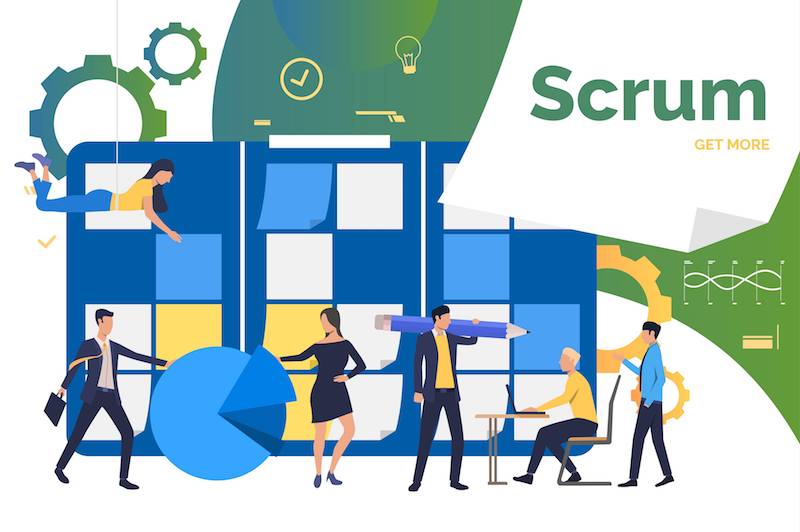 What Roles Are in Scrum?
The Agile project management setup is something you should be familiar with if you live in the software development world, given how popular it has become over the last decade or so. It was introduced and devised as a viable alternative to the more traditional project management style that had been used in the past, where there was a focus towards delivering one huge product or outcome.
Agile is more about breaking down a project into smaller independent deliverables or products that are developed, released and fine-tuned much quicker.
Of the two different styles of Agile, we wanted to discuss perhaps the most popular – Scrum. As we know you may be completely new to Scrum and may not know where all your team fits into it, we are going to look at the main roles in this project management style that can help make it a success.
But before we look at those roles, let us look at the basic setup of an Agile workflow.
What is Involved in an Agile Workflow?
There are essentially three main components to any successful and effective Agile workflow. These include:
Daily Standup – This is a meeting help every day where all managers and contributors discuss and assess the work that was completed the previous day along with what they are going to work on that day and broach any questions or issues that may have arisen.
Sprints – Sprints, as the name suggests, are short periods during which smaller products are designed, developed, assessed and released. These tend to be smaller projects within bigger projects.
Regular Retrospectives and Reviews – Agile teams manage themselves; this is true. However, there are also measures built into this project management style that ensures work is continually delivered to the same high standard. Manager and peer reviews take place before tasks are completed and once sprints are finished.
The Importance of an Organized and Co-Ordinated Team
As described above, Scrum involves shorter task timeframes and more demanding schedules. As a result, it is important with this project management style more than any other that your team is fully coordinated and organized. Roles need to be clearly defined enough to ensure everyone knows what they should be doing, at any stage in the process, while offering enough flexibility that people can use their initiative and perform even better than is expected of them.
Most Scrum teams that have the most success are smaller, leaner and are driven by getting results. Ideally, there should be between 6 and 9 people and the main three roles on the team are:
Product Owner – a key stakeholder with the vision of what the end product should be. His/her role is to help the company achieve its more long-term goals and work with the team to prioritize features in order they should be released. As part of this role, the individual needs to oversee communication among the team, informing team members as important developments occur and taking a proactive role when course-correcting and changes that have huge implications are needed. This role is often overlooked, hence getting someone who has attended a certified Scrum product owner training would be a sizable advantage.
Scrum Master – You could look at the Scrum Master as being the closest thing to a traditional project manager. They look after everything connected to the process and offer feedback and training for trainees and lower-level members of the team. They keep a close eye on the daily functions and manage the Scrum board, checking up on team members and ensuring task deadlines are being met.
Team Member – As you'd guess from the name, team members are all the creative and technical players. Depending on what you are working on, they can range from videographers and designers to copywriters and both back and front-end engineers. Although they all have different skillsets and roles, they each have a responsibility for completing their tasks to a high standard while meeting deadlines.
If you are just starting to plan the use of Agile project management and have chosen Scrum is right for your business, we hope the above guide helps you understand the important roles you need to have covered.
For more articles, visit OD Blog.