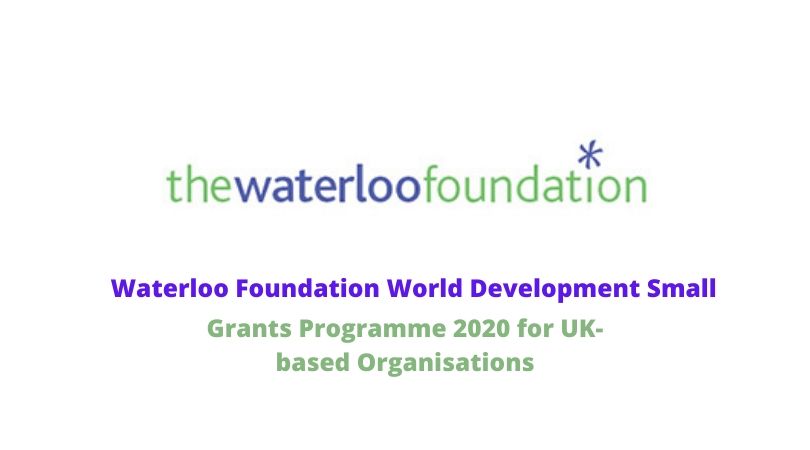 Waterloo Foundation World Development Small Grants Programme 2020 for UK-based Organisations
Deadline: Ongoing
Applications are open for the Waterloo Foundation World Development Small Grants Programme 2020. These Small Grants are intended to support smaller organisations delivering development work at a smaller scale.
Grants will be prioritised for small UK charities led by committed individuals, especially those based in Wales, which are working to deliver projects in developing countries.
The Waterloo Foundation (TWF) is an independent grant-making Foundation created in 2007, and based in Cardiff, Wales. They are a registered charity with the Charity Commission for England and Wales (charity number 1117535). They give grants to organisations in both the UK and world-wide. They are most interested in projects that help globally particularly in the areas of the disparity of opportunities and wealth and the unsustainable use of the world's natural resources. They want to help both the global community and the local community in Wales.
Grants
The small grants programme provides up to £10,000. The majority of the grants will be delivered over a one to two year period.
Eligibility
Applications are accepted from organisations with an annual income of less than £20,000 or that are newly established within the last 2 years;
Organisations must be based in the UK. At present, they do not accept applications to the Small Grants Programme from organisations based outside the UK. They will, however, consider applications by UK-based organisations working in close partnership with local in-country organisations.
Previous applicants are welcome to reapply, but only 18 months from the date of their last application.
Application
Before applying, visit the thematic pages to ensure that your project aligns with TWF's current funding priorities: Nutrition, Education, WASH and Sexual and Reproductive Health – for SRH applicants please refer to the additional SRH-specific application guidelines on the SRH Fund page. If you have previously received TWF funding, kindly contact your Fund Manager before you consider making a further application.
The Small Grants Programme is open all year round without topic-specific
deadlines. Feel free to apply at any point by emailing your application to [email protected].
For more information, visit Waterloo Foundation.