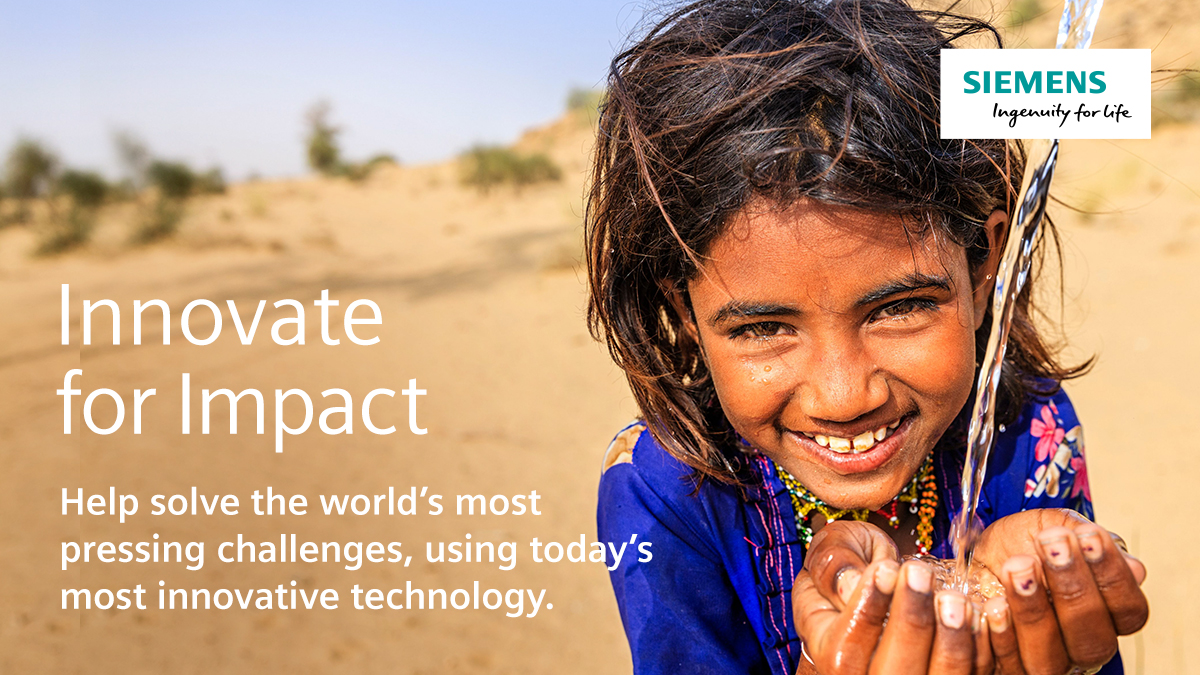 Innovate for Impact: Siemens Design Challenge 2020 ($10,000 USD prize)
Deadline: May 4, 2020
Applications for the Innovate for Impact: Siemens Design Challenge 2020 are now open. Join a global movement to prepare, adapt and respond to the most pressing challenges in food and water. Nurture breakthrough ideas, apply human-centered design to engineer innovative hardware solutions that help achieve the United Nation's Sustainable Development Goals by 2030.
The Innovate for Impact: Siemens Design Challenge brings together engineering communities focused on changing the world, and the resources of a leading, top-10 global software company that's been addressing the needs of society for more than 170 years.
They are doing this to provide engineers with platforms to expand what's humanly possible, creating new spaces to dream, innovate and develop solutions to drive us toward achieving the Sustainable Development Goals.
Those who engage in this challenge will have access to the Siemens software and technologies that have already enabled its users to cut product development cycle times in half. Now in addition to speed to market, engineers can focus on speed to society, delivering the solutions needed to achieve a more equal world by 2030.
Competition Tracks
Zero Hunger Track: Design a postharvest off-grid preservation technology
Clean Water Track: Design a very low-cost, energy-efficient, scalable technology for desalinating brackish water
Prizes
One winner/winning team will be selected for each track. The winner will receive $10,000 USD and the opportunity to meet Siemens USA CEO in person.
The winner will be promoted across Siemens USA and Engineering for Change platforms and receive exclusive invitations to industry events.
Eligibility
Anyone with an innovative solution can apply. Although it's beneficial to have either an engineering or design background, it is not required. Every idea can make a difference.
Product concepts may be submitted by teams or individuals.
The submitted solution does not have to be entirely new. It can improve on an existing technology.
Criteria
Throughout the challenge, you will be asked to:
Submit a text based application, explaining the problem area you are addressing and your proposed solution
Submit a short (60 seconds maximum) video introducing your team and product concept
Research and explore the needs of your end user
Design your concept in 3D CAD
Iterate your design based on the research you have conducted and provide justification for your decisions
Simulate how your product works
Submit a video pitch of your proposed solution
Application
The following is the Design Challenge Submission Checklist:
Sign-up as a member on the Engineering for Change (E4C) website. It's free!
Familiarize yourself with the Resources section, in particular —

SDGs and 50 Breakthroughs
Tools provided by E4C and Siemens

Identify a problem, or opportunity, within one of the two stated challenge tracks above. Consider prior-art and how access, efficiency and/or usability might be improved through design, engineering or manufacturing.
Review the Design Parameters document for your selected track. (below)
Assemble a team. While individuals may participate by themselves, it is highly beneficial to leverage diverse backgrounds. Team composition will be considered during the judging process.
Draft an initial solution concept. Note that you will refine this concept over the course of the challenge. Solutions should address one of the two challenges posted. (At the planning & concept phase, concepts may be explorative, but should start to answer the questions listed in the Design Parameters.)
Log in to your Engineering for Change account and download your free license of Siemens Solid Edge 3D CAD software here.
Please sign up as an E4C member or log in to your E4C account to apply. Following sign up, new members will be required to activate their account via email. Once activated, navigate to the Challenge Overview page and click "Apply here" again.
For more information, see FAQs and visit Innovate for Impact: Siemens Design Challenge.