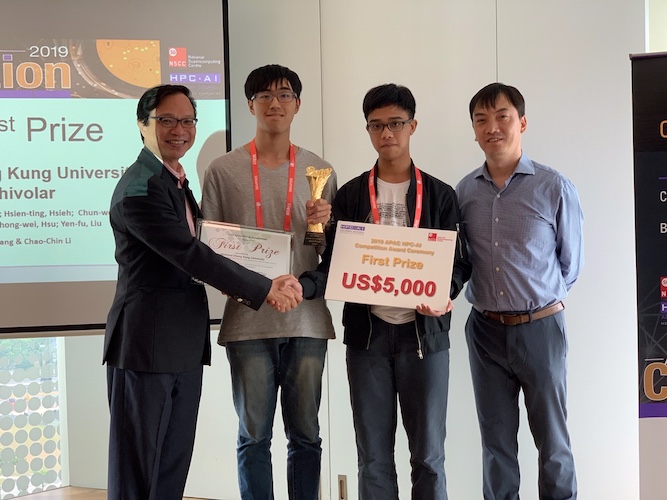 Apply for the APAC HPC-AI Competition 2020 ($5,000 prize)
Deadline: May 20, 2020
Applications are open for the APAC HPC-AI Competition 2020. The APAC HPC-AI Competition encourages international teams in the APAC region to showcase their HPC and AI expertise in a friendly yet spirited competition that builds critical skills, professional relationships, competitive spirits and lifelong comraderies.
The mission of the HPC-AI Advisory Council is to provide the latest technological information, to help bridge the gap between HPC and AI uses and potential, and to demonstrate the beneficial capabilities of HPC and AI to new users for better research, education, innovation, product manufacturing, and help enable scientific and medical breakthroughs.
As part of this year's competition, the HPC-AI Advisory Council and the National Supercomputing Centre (NSCC) Singapore have joined the global fight against COVID-19 and have expanded the competition to address education and applied learning towards accelerating bioscience research and discovery. Student teams will be tasked to research, find and choose an HPC or AI application that can potentially be used to aid researchers design new drugs and vaccines to combat COVID-19 and better prepare them to provide solutions to future global issues.
Prizes
First Place (one team): $5,000 USD and a reserved spot representing APAC at the 2021 International ISC Student Cluster Competition
Second Place (one team): $3,000 USD
Third Place (one team): $1,500 USD
Merit Prize (up to three teams): $1,000 USD
Each team member will receive a certificate.
Eligibility
Open to university and technical institute teams from across the entire APAC region.
Complete team (students and a coach) must be designated at the time of submission for participation.
Teams must prepare and submit a proposal describing:

Team members, including the year which the students enrolled in the educational institution.
Biographies, and individual and group pictures are strongly encouraged.
Educational Institution logo (in .jpg and .eps formats).
Point of contact information (Name, address, title/position, phone number, email), the person responsible for distributing information to all team members.
Why are you participating?
Why do you believe that the team you put together is a winning team?
What diverse skillsets does your team possess?
What experience do you and your team members have?
Note the following rules
There is no limit on the number of students per team.
Students can be undergraduate or graduate.
The HPC-AI Advisory Council will determine the participating teams according to their submission details.
The HPC-AI Advisory Council is not liable for any costs and expenses incurred by the participants in the preparation or presentation of the project.
The HPC-AI Advisory Council may disqualify teams based on failure to complete the competition's tasks, or other reasons.
The HPC-AI Advisory Council will determine the winning teams based on their achievements, presentations and other factors
Participants shall submit their source code and other required documents in accordance with the submission deadline.
Application
To submit please complete the form as much as possible along with your teams proposal.
For more information, visit APAC HPC-AI Competition.