You are invited to join OD Live with Brenda McWilson-Okorogba on Mapping Your Future: Winning Strategies for Scholarship Application.
There are thousands of great scholarships out there, but to win a scholarship, you must have a strong application. The secret lies in creating strategic approach in finding and applying for the scholarships. Brenda will be sharing effective strategies to increase your odds of winning competitive scholarships.
This session will address the following key questions:
How to answer some common scholarship questions.
What key things helps with winning a scholarship? Key things that will make your scholarship application stand out.
Where to find scholarship opportunities.
How to write a scholarship application.
How to apply for international scholarships.
How to identify scholarship scams and avoid them.
The #ODLive series is part of our efforts to empower our users with the right knowledge and tips they need to grow and succeed in their businesses, projects, and applications for global opportunities.
About the Speaker: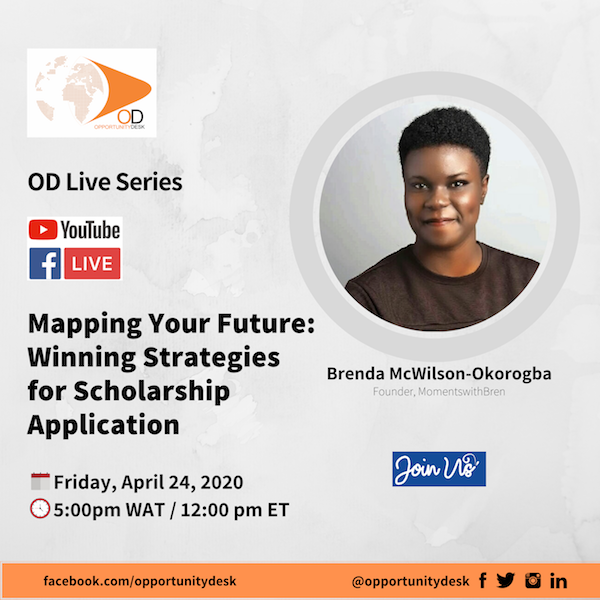 Brenda McWilson-Okorogba is the Founder of Momentswithbren, an organization that provides a suite of helpful academic opportunities, career development tools and free resources for individuals to connect with their communities, support a culture of innovation, and promote a vision for self-determined learning that is student-centred, empathy-based, forward-thinking, and designed to meet the vast needs of today's learners.
In true leadership, Brenda purposefully creates opportunities for the growth of those around her, both personally and professionally. She has worked with students around the world throughout their career pathways and college admission with a record of $5.1million fully-funded scholarships and tuition-fee waivers, and also securing over 400 jobs for youths.
---
Event Details
Topic: Mapping Your Future: Winning Strategies for Scholarship Application
Speaker: Brenda McWilson-Okorogba
Date: 24th April 2020
Time: 5:00pm WAT / 12:00pm ET / 4:00pm GMT
How to Join the Livestream
No registration required, just click the link below and show up on Friday, 24th April 2020 ready!
Join via Opportunity Desk's Facebook Livestream or YouTube Channel.
You don't want to miss this. Save the date! #ODRocks #ODLive
---
About Opportunity Desk
Established in 2012, Opportunity Desk (OD) is the largest digital media platform that bridges the gap to education by sharing information on relevant learning and growth opportunities for youth around the world. These opportunities help to facilitate young people's efforts in exchanging ideas and preparing themselves for the future.
Opportunity Desk works to provide access to global experiences to all through educational opportunities abroad, scholarships, training and conferences, fellowships, grants and awards, jobs, internships and volunteer programs. By doing so, the OD hopes to bring an international experience to everybody, regardless of their background, age, disabilities, education, gender identity, racial or ethnic identity, sexual orientation or socio-economic status.
Follow OD to stay up to date:
Facebook: https://www.facebook.com/OpportunityDesk
Twitter: https://twitter.com/OpportunityDesk
Instagram: https://www.instagram.com/opportunitydesk/
LinkedIn Profile: https://www.linkedin.com/in/opportunitydesk/
LinkedIn Page: https://www.linkedin.com/company/opportunitydesk/
Telegram Channel: https://t.me/opportunitydeskofficial
Telegram Group: https://t.me/joinchat/SNHwcxPJdHa3XIlcchG7-Q
, ,
It's going to be amazing!
Watch past OD Live sessions here.