We received a heart-warming letter from an OD User, Simay Karaduman from Turkey, who was accepted into the European Voluntary Service (ESV). She shares her experience during her service at EVS!
Enjoy
---
"I have been applying for years, but you still take your chance."
Although many past applicants' comments were like this, still, I was accepted into the European Voluntary Service (EVS) project that I had applied for the first time. The first two projects that came across when I decided to go were in Albania and England. A day after my application, my adventure began with the interview invitation that I opened with the idea of "automatic mail" from Albania. Three days later, I had an interview on Skype, and a week later, prepare your suitcases message arrived: "Congratulations!"
Actually, it all started with my decision to go, I understood that long after. If you are determined to volunteer in Europe for a while, your motivation letter and the energy you show in the interview should be enough to convince them. I had received a positive response from Britain two days before my flight to Albania, but it was too late, I was already holding the Tirana ticket 🙂
The only thing I knew about the project was that, there were two volunteers from Turkey and the project was about human right issues and also the mandate was very comprehensive. And I knew that, when I return, I would be returning with self respect which was worth more than my courage of going.
Our round-trip flight tickets were bought, our health insurances were initiated, and the houses and rooms where we would be staying were arranged. I met with my "companion", who would accompany me on this journey and whom we would work together as I discovered myself a week before our Balkan adventure. I visited 6 countries, saw dozens of cities with hundreds of people, in my EVS life, but Emre remains the most dearest one.
We taught and worked with Emre for 6 months in Tirana, the capital of Albania, in a socio-culturally insufficient region (Roma Community). I was a painting teacher at high school and primary school, while Emre was a Math teacher at the same high school as me. His profession was already Mathematics teaching, and I only had a painting skill and interest from my mother, that was it 🙂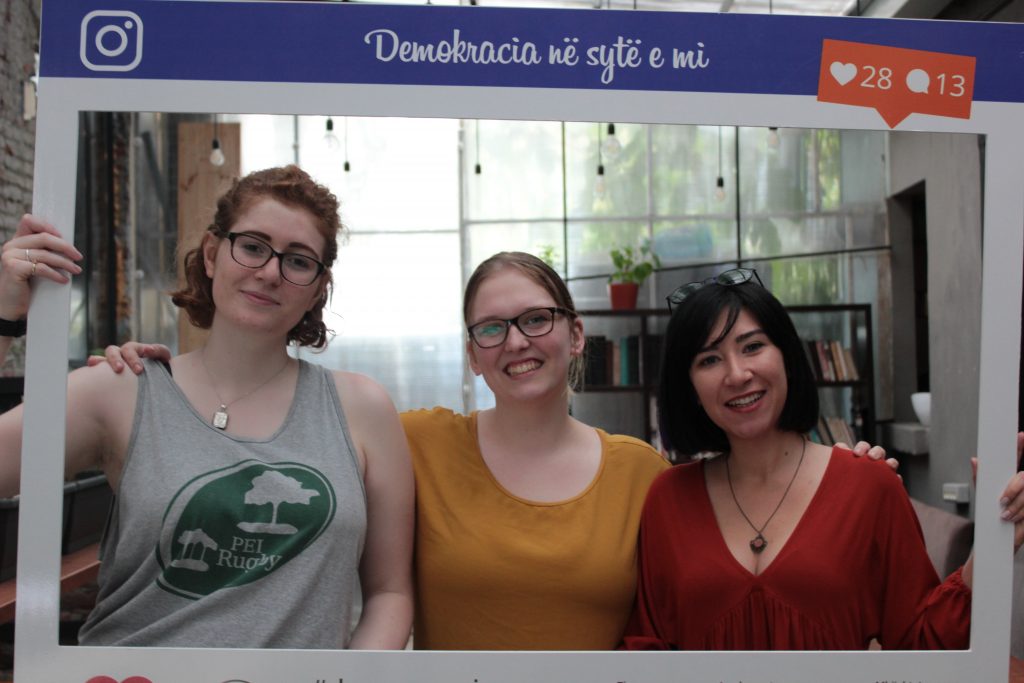 My primary school second grade students were not speaking English and I was not speaking Albanian yet. I could only communicate with children by drawing, painting and creating with them without speaking the same language. In high school, besides those who could speak English at advanced level, there were also those who could speak Turkish thanks to the Turkish TV Series they watched on television. Due to its geographical location, Albania is among the countries where Italian and Greek languages are widely spoken. Young people attributed their knowledge to at least three languages to their familiarity with many letters, as there are 36 letters in total in Albanian. Although it is not a language close to Turkish as the sentence structure, it felt pleasant to hear the common words (tent, envelope, green, lighter, window, pot, orange, sofa, etc.) coming from the Ottoman language.
In our free time, we supported local projects carried out by our host organization. The projects had many different rights-based topics. Especially in Albania, known as the Jerusalem of the Balkans, the coexistence of religions was one of the most striking topics. A project called "Dialogu Ndérfetar", which we took part in its organization, consisted of the trainings and activities we organized for high school students. As part of the project, I made awareness-raising pictures on the school walls, while Emre took part as a photographer and undertook the digital follow-up of the activities.
We were constantly attending invitations for projects, organizing joint events with young people from all over the world and traveling a lot. But I want to talk more about how much of all this is financed, especially the EVS opportunities.
During the project (01.02.2017-01.08.2017), we received 155 € pocket money each month and they provided us a bus card that we can use for local transportation every month. Our house was 20 minutes away by bus to the office where we worked. We shared the house with Emre, we had separate rooms and enough items to sustain our lives (our host organization was negligent in this regard, and we got used to it after a while :)). We had health insurance, I never used it, but once, Emre paid hospital expenses and medication, and then sent the invoices back to the relevant address. That's how we managed to get the repayment. In addition, within the scope of EVS, visa processing fees, airport transportation, round-trip flight tickets and all the expenses of the trainings we received during your project were covered.
Was the pocket money enough for us? Albania is a very cheap country for food, although the Muslim population is predominant, the sale and consumption of pork is also very common. Cigarettes are cheaper than Turkey, 1 liter water has the same price with 33cl beer. It is not cheaper than water but it is more common 🙂 Apart from house and personal expenses, we spent our pocket money to travel Albania and other Balkan countries. If we make an assessment based on the minimum wage of 175 € in Albania; With 155 €, you can live peacefully as a volunteer without paying the rent, electricity, water, natural gas (there wasn't any) bills.
Knowing a foreign language is one of the most hesitant subjects for those who want to apply for youth projects. There is no requirement to know English if you want to take part in the EVS project, but having a willingness to learn will be directly proportional to the pleasure you will receive throughout the project. As the first step only, your resume and motivation letter should be prepared in English. Skype interview is not a step that is followed by every institution. My interview lasted about 30 minutes. The topics of our meeting were the profiles of the volunteer and the host organization, what we would do in that project and why I chose that project. If you think you will have difficulty, you can post short notes on your computer screen 🙂
The country where you are chosen as a volunteer will also have a local language, and within the scope of EVS, a free course will be set up to teach you the local language of that country. In 6 months, I was only able to reach the basic level in Albanian, it has been 6 months since I returned, maybe I have even forgotten! :). But that language will provide you with great convenience in social life throughout the project, especially when you need shopping, ordering and directions.
I accumulated all these memories and came back with longing but with a lot of hope. I continue to pursue my voluntary activities, which is my social and psychological satisfaction, nowadays. I hope every story is a new beginning, and this story will touch on youth opportunities and volunteering. I believe; The more volunteers, the more impact, The more impact the more transformation, And more transformation will bring more change.
Stay with beauty!
Simay Karaduman
---
Congratulations to Simay Karaduman!
Do you have a success story you want to share with the world? Shoot us an email: [email protected] or [email protected]
For more articles, visit OD Blog.