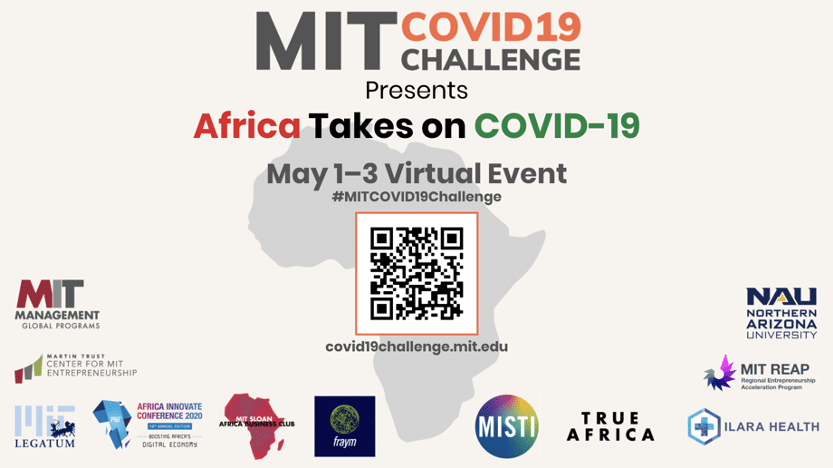 MIT's Africa Takes on COVID-19 Challenge 2020
Deadline: April 27, 2020
Applications are open for the MIT's Africa Takes on COVID-19 Challenge 2020. The Africa Takes on COVID-19 Challenge event is the third in a series of virtual hackathons. Over the course of two days, multi-disciplinary teams will collaborate to develop innovative solutions that can help address the COVID-19 crisis.
MIT is rallying the innovation community to develop solutions towards the most pressing issues related to the COVID-19 crisis in Africa. They want to channel and unlock untapped potential into positive and meaningful efforts to rapidly create and implement solutions that truly address the pressing unmet needs and problems of today. Their goal is for teams to design and build local solutions to these now global problems.
The Challenge is focused on solving some of the most pressing problems that are resulting from the COVID-19 crisis. Participants are encouraged to come with these problems in mind, but you don't need to have an answer in hand. You'll work with teams to develop solutions that will have a meaningful impact on the COVID-19 crisis.
Challenge Prompts
Flattening the Curve: How to prevent disease transmission and protect vulnerable populations from effects of COVID-19?
Supporting our Health Systems: How to strengthen the health systems and health facilities that may face staff, supplies, and resource shortages?
Prizes
Winning teams will receive:
Computing resources;
Organizational support and
Direct access to key partners to further develop, validate and implement solutions developed.
Eligibility
They are seeking a diverse group of participants. Participants ages 13+ of all experience levels, professional and academic backgrounds, and skill sets are welcome; what matters most is your commitment to making an impact and your willingness to collaborate.
Participants of all academic and professional backgrounds are welcome! Technical or medical experience is always helpful, but it is not required.
Participants do not need to be affiliated with MIT, just need to be eager to take on COVID-19! As above, technical or medical experience is always helpful, but it is not required.
Application
Apply to be a Mentor: Mentors will work with teams based on their experience and expertise. Mentors do not need to be available for the entire weekend. Once mentors have been accepted, they will select a 2-3 hour shift at a time that best accommodates their schedule.
Team applications will be reviewed on a rolling basis. Emphasis will be placed on ensuring a diversity of skill sets and demographics are represented among participants. You will receive an email from the Africa Takes on COVID-19 Challenge team by April 29 at 11:59pm EST with an update regarding your acceptance.
For more information, visit MIT's Africa Takes on COVID-19 Challenge.