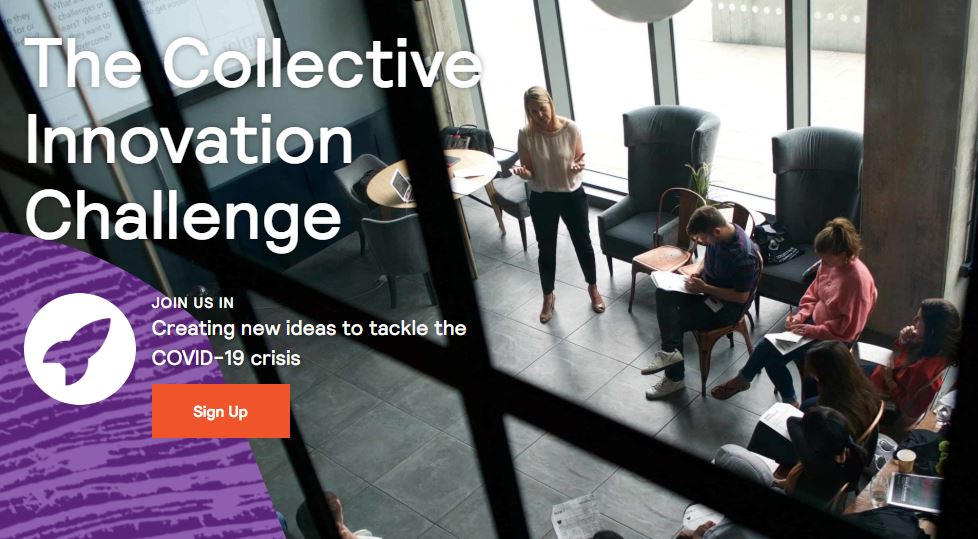 The Collective Innovation Challenge 2020 to tackle COVID-19
Deadline: Ongoing
The Collective Foundation is accepting entries for the Collective Innovation Challenge 2020. Have an idea to tackle the COVID-19 crisis? Join the challenge now. The Collective Innovation Challenge is an online programme and community to support you in developing ideas to help isolated older people, young people with disadvantaged backgrounds, and people who experience homelessness.
The Collective Foundation believes in the power of bringing people together to tackle critical social issues. As the COVID-19 crisis unfolds, vulnerable communities urgently need support. This is why they are challenging you to think of innovative ideas that can support communities that are significantly affected by the COVID-19 crisis.
Focus Areas
How can we support vulnerable groups who are affected by the COVID-19 crisis?
Isolated Older People: They are particularly interested in working with those who experience the most severe forms of social isolation — people who live independently, the economically disadvantaged, and those who don't have existing strong social networks. How can we support the emotional and social needs of those aged over 70 who have been asked to take the most stringent social distancing measures?
Young People with Disadvantaged Backgrounds: This is a moment that exposes many of inequities faced by young people in our society —from access to quality food and broadband and computers needed for distance education to the supportive environments needed to focus on learning. For the millions of young people who are homeless or food insecure, school is often the one place where they feel safe and where some of their urgent needs are met. How can we support the social, physical and mental-health needs of society's most vulnerable young people and their carers?
People who Experience Homelessness: There are an estimated 300,000 people living in temporary accommodation, sofa-surfing or experiencing other kinds of homelessness than rough sleeping. These people are at serious risk during the COVID-19 crisis and not necessarily covered by government legislation in support of rough sleepers. What can we do to support individuals and families without stable accommodation?
Benefits
Joining the Innovation Challenge will increase the chance of success for your idea. Once you sign up, you will get access to Collective Foundation's online platforms where you can share your ideas, find team members, or join other teams. You can read their research briefs to get a better understanding of the problems that the groups they focus on face.
You will be supported throughout the idea development process by Collective Foundation's mentors. You will also get access to their educational content, their network of partners, and feedback sessions with frontline experts who can validate your idea.
By the end of each challenge, the most promising ideas will be selected to be brought to life with their partners. Depending on the challenge you participate in, this means funding, ongoing coaching, and/or access to their network.
Eligibility
Anyone who wants to contribute their skills is welcome to take part. Whether you have experience in tech, UX, business, project management, the charity sector, or the creative arts, there is no limit to what we can achieve if we bring our strengths together.
They actively encourage people who have personal or professional experience working with organisations in the Focus Areas to apply.
You can be from anywhere in the world to participate. However, as the organisers are a London-based Foundation, they exclusively work with organisations in the UK for the time being. They do believe that to a large extent, challenges in the UK are also relevant in other geographical contexts. They hope that the solutions that come out of the challenges will inspire a positive impact in and outside of the UK.
Application
When you have filled in the sign-up form, you will receive an invitation to join the Ideanote platform along with instructions how to use it. You will be able to formally submit your ideas via the platform.
For more information, visit The Collective Innovation Challenge.