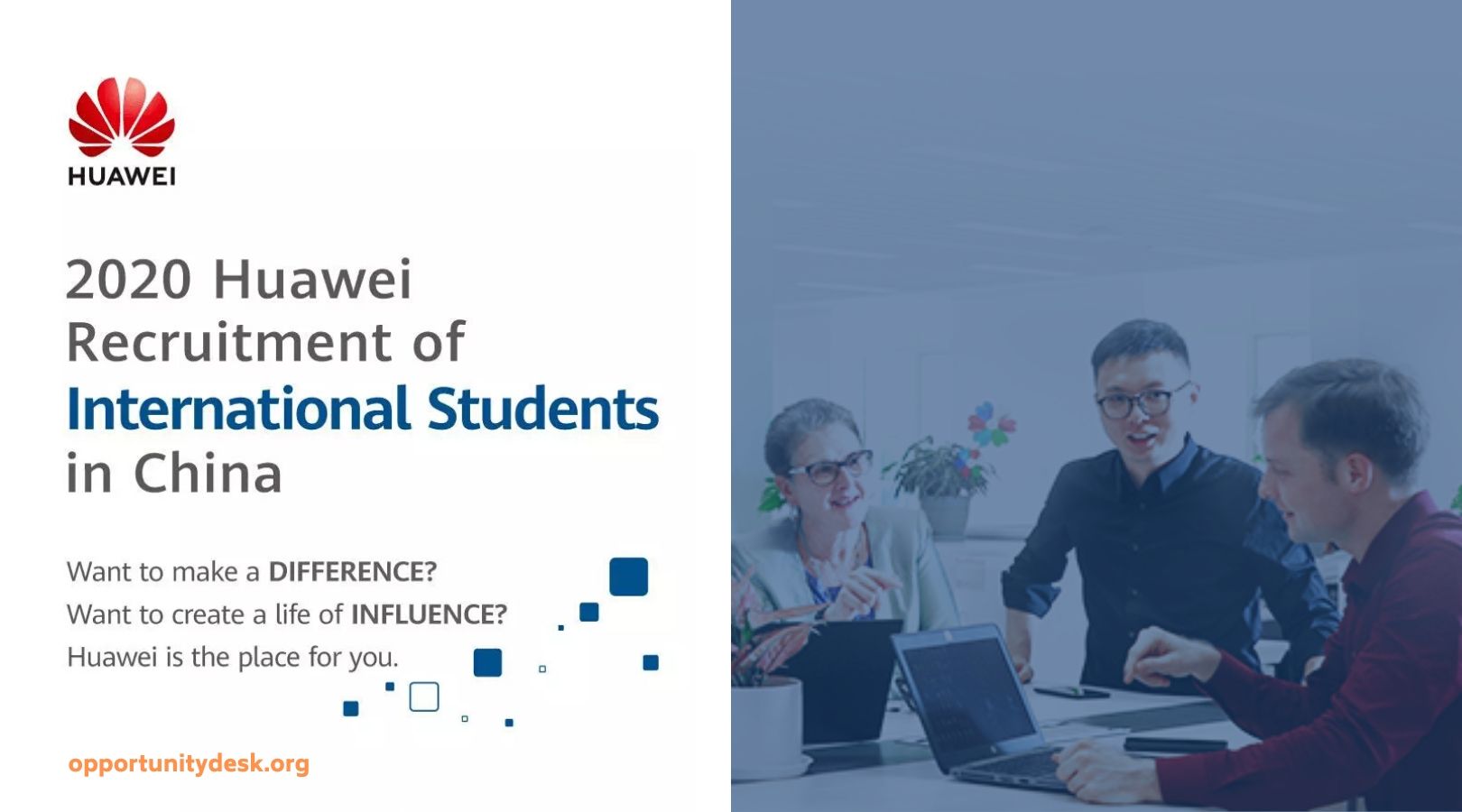 Huawei Recruitment of International Students in China 2020
Deadline: Ongoing
Are you an international student in China? Applications for Huawei Recruitment of International Students in China is open. They invite outstanding, capable students of all backgrounds to apply for positions at Huawei.
Do you want to make a difference? Do you want a life of influence? Then Huawei is the place for you.
Vacancy Locations
Asia-Pacific
Northern Africa
Southern Africa
West Europe
Northeast Europe
Middle East
Latin America
Eurasia
Japan
Consumer BG
About
Founded in 1987, Huawei is a leading global provider of information and communications technology (ICT) infrastructure and smart devices. We are committed to bringing digital to every person, home and organization for a fully connected, intelligent world. We have nearly 194,000 employees, and we operate in more than 170 countries and regions, serving more than three billion people around the world.
Huawei's end-to-end portfolio of products, solutions and services are both competitive and secure. Through open collaboration with ecosystem partners, we create lasting value for our customers, working to empower people, enrich home life, and inspire innovation in organizations of all shapes and sizes. At Huawei, innovation focuses on customer needs. We invest heavily in basic research, concentrating on technological breakthroughs that drive the world forward.
Benefits
Eligibility
In this round of recruitment they are looking for anyone who will graduate/has graduated in 2019 or 2020.
Any international student in China who graduates in 2019 or 2020 is welcome to apply.
Majoring in computer science, software telecommunications, electronics, engineering and related disciplines including accounting, finance, law, economics, management etc.
Proficiency in Chinese, English and another language is preferred
Application
Register your resume on Huawei's recruitment website. If you pass initial selection, you will receive a call to interview before the recruitment event.
Interviews are generally in two steps: technical interview & final interview. Technical interviews are conducted at recruitment events in China. Final interviews can be done remotely via video link.
After a recruitment event, Huawei will send interview results to all candidates we interview. Outstanding candidates will receive offers and can begin the process of signing their contracts with Huawei.
To submit your resume, register on the recruitment website (link below). Go to Campus > International Students to find positions suitable for international students graduating in China.
Closing date
They will be organizing many recruitment events, but they suggest that you register and upload your resume onto the system as soon as possible. They will send you notification that you are through to the next round by text message or email, so please make sure that you check your phone/inbox. If you don't receive an invitation to interview after you submit your resume, then they do not have a suitable position for you at this time.
For more information, visit Huawei and Recruitment Info.