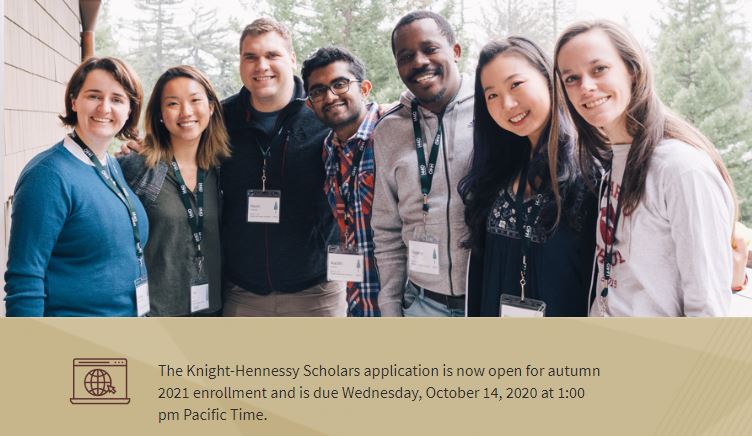 Knight-Hennessy Scholars Program 2021 to study at Stanford University (Fully-funded)
Deadline: October 14, 2020
Applications are open for the Knight-Hennessy Scholars Program 2021. The Knight-Hennessy Scholars Program develops a community of future global leaders to address complex challenges through collaboration and innovation.
Each year up to 90 high-achieving students who are independent thinkers, display purposeful leadership, and have a civic mindset will join a diverse cohort of Knight-Hennessy Scholars.
Program Details
The Knight-Hennessy Scholars program cultivates a diverse, multidisciplinary community of emerging leaders from around the world and guides them to collaborate, innovate, and communicate as they prepare to address the complex challenges facing society. Knight-Hennessy Scholars become part of a supportive family of fellow scholars.
Through the King Global Leadership Program, scholars will broaden knowledge, develop skills, and strengthen character; this platform provides a collection of community experiences, workshops, meetings with leaders, domestic and global study trips, and personal development opportunities. Knight-Hennessy Scholars also receive funding for graduate study at Stanford University.
Benefits
Join a multidisciplinary community of Stanford graduate students dedicated to tackling the world's challenges.
Experience the King Global Leadership platform of personal development opportunities, with coaching and feedback, and the opportunity to learn from diverse leaders from different walks of life.
Receive full funding for up to three years of your graduate degree program at Stanford, plus a stipend for room and board.
Build skills in leadership and communication that will empower you to work across disciplines and to scale creative solutions for complex challenges.
Eligibility
Open to a broad set of qualified applicants. As such, there are no restrictions based on citizenship, age, field of study, career aspiration, etc. — nor are applicants required to seek endorsements from institutions;
You are eligible to apply to the Knight-Hennessy Scholars program if you are applying to enroll in a full-time graduate program(s) at Stanford (for example, but not limited to, DMA, JD, MA, MBA, MD, MFA, MPP, MS, or PhD) or if you plan on pursuing one of Stanford's many joint- and dual- graduate degree options (for example, but not limited to, MD+PhD, JD+MA, MBA+MS);
You must have graduated in January 2014 through September 2021 to enroll at Stanford in autumn 2021;
U.S. military (active or veteran) applicants: You receive a two-year extension of eligibility due to longer service commitments. You are eligible if you earned your undergraduate (bachelor's or first) degree in 2012 or later.
Criteria
The Knight-Hennessy Scholars program will attract the most promising future leaders from all disciplines and geographies. As a scholar, you will broaden your knowledge, develop skills, and strengthen your character; this will prepare you to effect positive change.
There is neither a typical nor an ideal Knight-Hennessy Scholar. In selecting Knight-Hennessy Scholars, they look primarily at three areas:
Independence of Thought

Exhibits first-step mental sharpness
Seeks out knowledge and new experiences
Full of original ideas
Makes sense of ambiguity

Can hold a contrarian or dissenting point of view

Purposeful Leadership

Ambitious, in the best sense

Able to bring others along

Civic Mindset

Personally humble and kind
Supportive and accountable
Embraces difference
Concerned for and helpful to others
Application
The Knight-Hennessy Scholars admission process is designed with the goals of allowing you to know yourself better, enabling them to understand you, and empowering you to make your best case for admission — all while making the application process itself a great experience for you.
For more information, visit Knight-Hennessy Scholars Program.