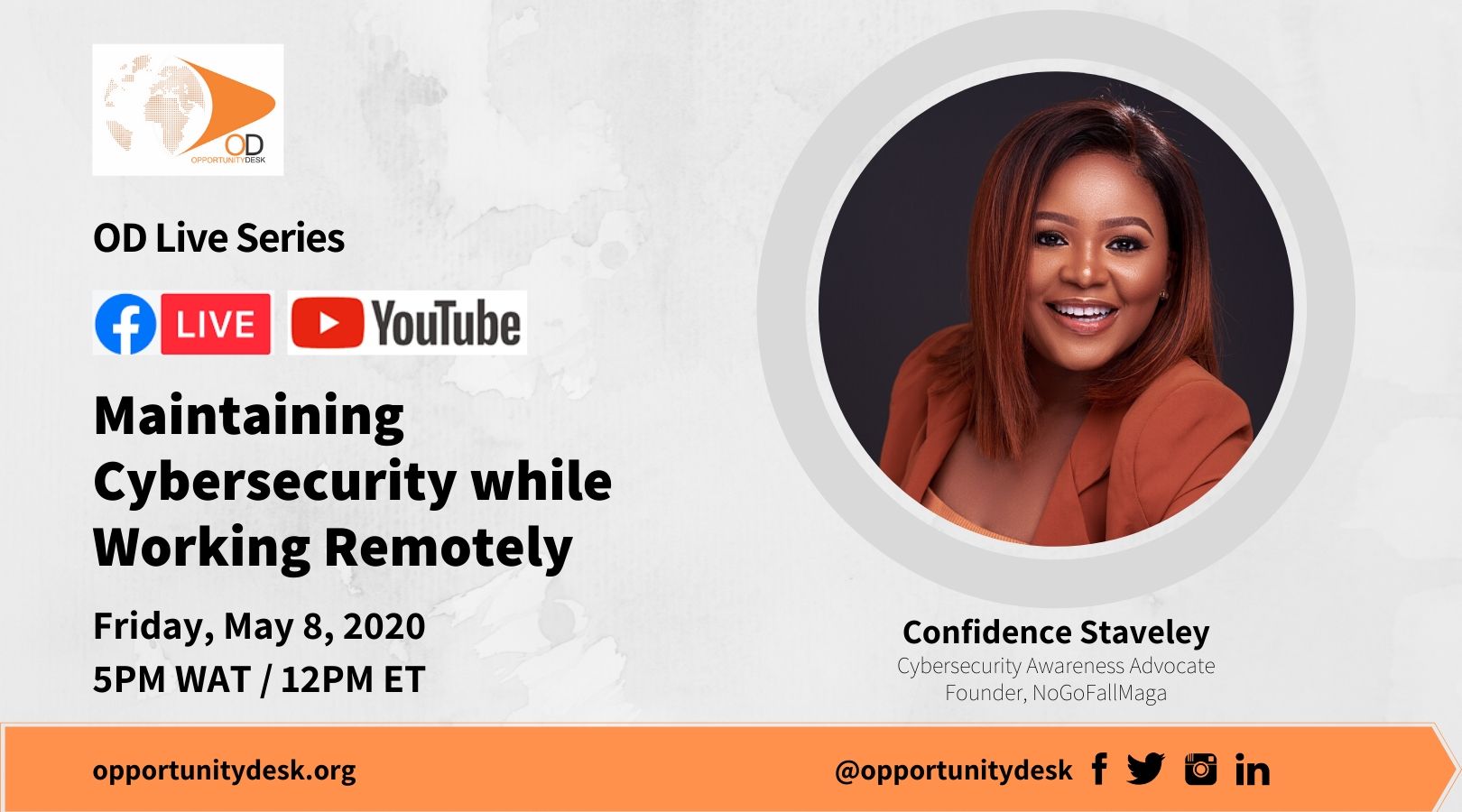 OD Live with Confidence Staveley: Maintaining Cybersecurity While Working Remotely – May 8, 2020
You are invited to join OD Live with Confidence Staveley on Maintaining Cyber Security While Working Remotely.
The most common word of 2020 has got to be "Stay Safe". As the world becomes increasingly dependent on the internet to stay connected and collaborate during COVID-19 pandemic, cybercriminals are also around the corner to take advantage of the times. The pandemic is providing new opportunities for cyber actors to exploit unsecured technology systems and gullible users who are new to working from home. It has therefore become crucial to apply measures to not just stay safe physically, but online as well.
Confidence Staveley will expound on this cybersecurity topic and share work-from-home cybersecurity tips that you can start practicing today in order to stay safe online.
The #ODLive series is part of our efforts to empower our users with the right knowledge and tips they need to grow and succeed in their businesses, projects, and applications for global opportunities.
---
About the Speaker: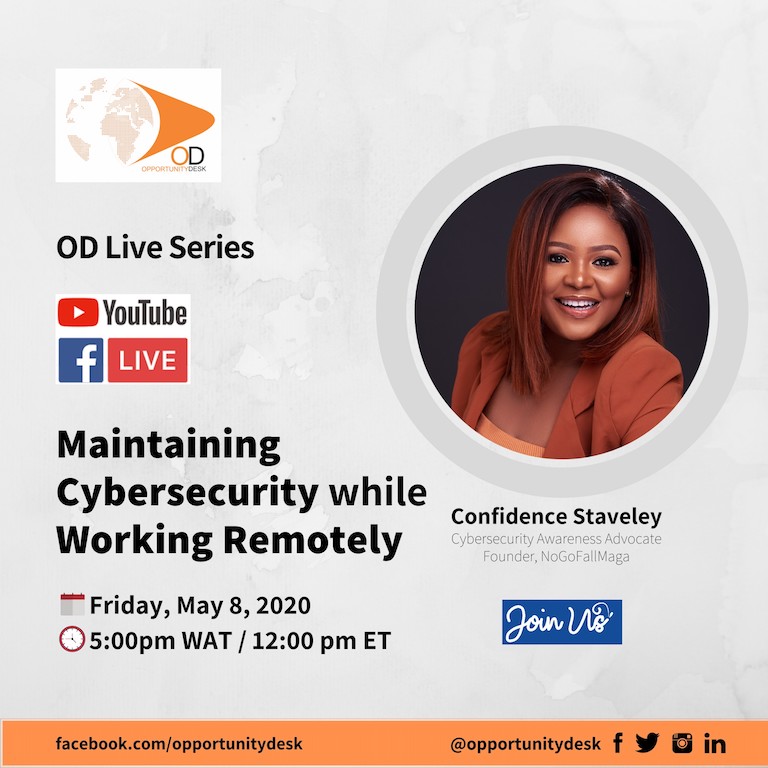 Confidence Staveley is a Cybersecurity Awareness Advocate, Ethical Hacker, Information Technology Expert, Global Shaper and Entrepreneur with over a decade's worth of experience in technology and business development roles across multiple sectors. She holds a BSc in Information Technology and Business Information Systems and an MSc in Information Technology Management from University of Middlesex and University of Bradford , where she finished with First Class Honors and distinction respectively.
Her wealth of experience garnered across diverse sectors including Education, Banking, Government and FinTech, has distinguished her as one of the leading female voices in the African technological space. She is a BBC Biz 100 expert, and an external faculty of The FINTECH Institute (Lagos| London| Toronto), an acknowledgment of her professionalism, influence and expertise within the African tech ecosystem.
Confidence is a writer who has authored some of the most relatable cybersecurity articles on the Nigerian cyberspace. Through her social media and traditional media platforms, she has educated over 500,000 Nigerians on behavioral changes to improve individual and organizational cybersecurity posture. She is also the author of Africa's first storified cybersecurity awareness book, NoGoFallMaga-The Handbook. She contributes to social responsibility through #NoGoFallMaga; a not-for-profit campaign she launched to combat digital fraud perpetrated through social engineering, arguably the number one cyber threat faced in Nigeria.
---
Event Details
Topic: Maintaining Cyber Security While Working Remotely
Speaker: Confidence Staveley
Date: Friday, 8th May 2020
Time: 5:00pm WAT / 12:00pm ET / 4:00pm GMT
How to Join the Livestream
No registration required, just click the link below and show up!
Join via Opportunity Desk's Facebook Livestream or YouTube Channel.
You don't want to miss this. Save the date! #ODRocks #ODLive
---
About Opportunity Desk
Established in 2012, Opportunity Desk (OD) is the largest digital media platform that bridges the gap to education by sharing information on relevant learning and growth opportunities for youth around the world. These opportunities help to facilitate young people's efforts in exchanging ideas and preparing themselves for the future.
Opportunity Desk works to provide access to global experiences to all through educational opportunities abroad, scholarships, training and conferences, fellowships, grants and awards, jobs, internships and volunteer programs. By doing so, the OD hopes to bring an international experience to everybody, regardless of their background, age, disabilities, education, gender identity, racial or ethnic identity, sexual orientation or socio-economic status.
Follow OD to stay up to date:
Facebook
YouTube
Twitter
Instagram
LinkedIn Page
Telegram Channel
Telegram Group
It's going to be amazing!
Watch past OD Live sessions here.