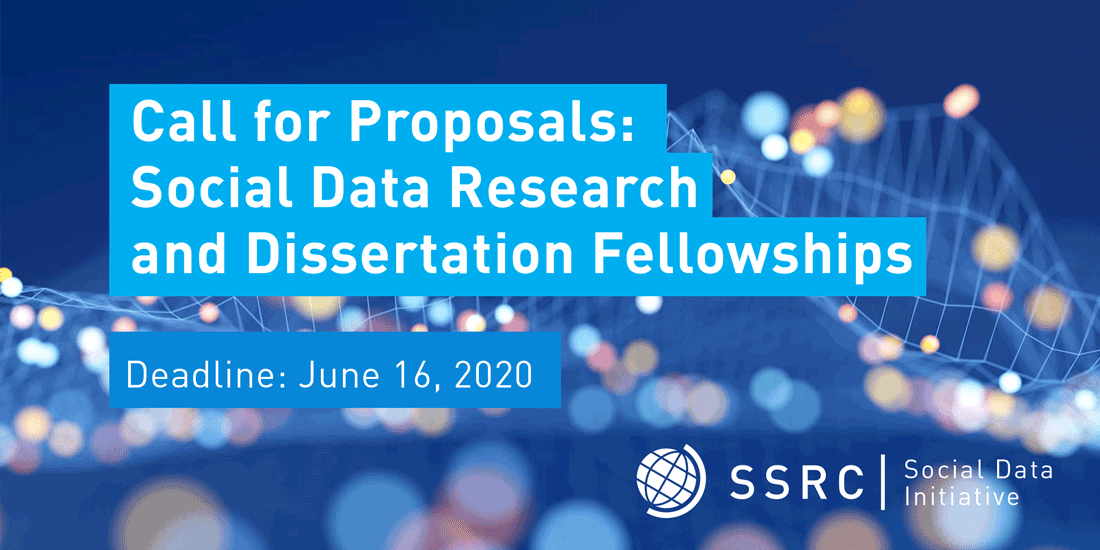 SSRC Social Data Research and Dissertation Fellowships 2020
Deadline: June 16, 2020
The Social Science Research Council (SSRC) with support from Omidyar Network, invite proposals for the Social Data Research and Dissertation Fellowships 2020. The Fellowships seek to encourage multifaceted pathways for the collection and analysis of social data, with the larger aim of cultivating robust research on technology and society. In particular, they are interested in supporting research that makes creative use of available social data to investigate how social media interact with democracy and elections.
SSRC invites proposals from scholars in the social sciences and related fields for the Social Data Research Fellowship and the Social Data Dissertation Fellowship. These fellowships will support research projects of up to 12 months in length that are focused on two key areas:
Advancing scholarly research on the role of social media in elections and democracy, with an emphasis on the 2020 US elections, including local, state, and/or national primary or general elections. Topics may include (but are not limited to) disinformation, polarization, election integrity, political engagement, political advertising, microtargeting, voter suppression, forms of algorithmic bias related to elections, the impact of news reporting and changes to the media ecosystem, or other related areas. Research that explores more than one social media platform or the relationship between social media platforms is particularly welcome, as is research that explores the disproportionate effects on the political participation of women and under-represented groups.
Expanding best practices and methods for accessing and analyzing relevant data that can inform our understanding of the impact of social media on democracy, including (but not limited to) new methods of data collection and sharing; exploring implications for data privacy and ethics; alternative proxy data to inform our broader understanding of proprietary social media data; and ethnographic, journalistic, or other qualitative approaches to data collection.
Eligibility
The Social Data Research Fellowship program is open to researchers who hold a PhD in a relevant discipline and are based at an institution of higher education (college or university) or a non-profit focused on social research. These awards may not exceed $50,000 US.
The Social Data Dissertation Fellowship program is open to PhD students who are actively enrolled in a PhD program, who may apply for awards of up to $15,000 US in support of dissertation research. Applicants to the program should have completed all PhD coursework by the beginning of the fellowship term.
Review Criteria:
Intellectual merit: the intellectual significance of the proposed project and its capacity to advance scholarship, scientific understanding, and/or public knowledge, as well as the degree to which the project offers thoughtful and generalizable models or new pathways for studying the impact of social media on democracy.
Feasibility: the appropriateness of the proposed activities, methods, planned activities, and budget to accomplish the stated aims of the proposed project.
Qualifications: the degree to which the participants have the expertise, skills, and knowledge to accomplish the stated aims of the proposed project.
Ethics and Privacy: the commitment to and stated plan to meet or exceed standards for the ethical use of data, including the protection of individuals and their privacy.
Application
To submit a proposal and view the required application form (link below). You may begin a proposal and save your progress at any time until final submission.
The proposal requires the following:

Application Form
Project Narrative
Data Management Plan
CV
Budget
Letter of Affiliation
All proposals should use no less than 1-inch margins (2.54 cm), with a font size no less than 11 pt. Proposals should be single-spaced.
For more information, visit SSRC Fellowship.