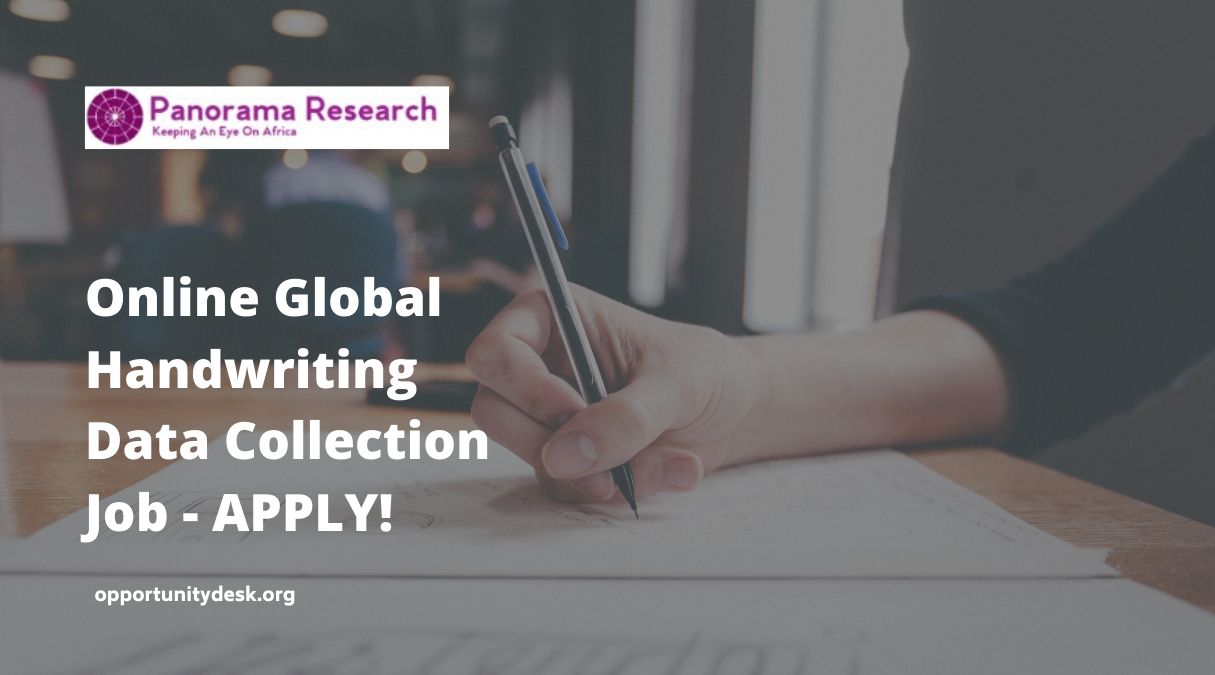 Call for Data Contributors – Global Handwriting Data Collection Project (Paid)
Deadline: June 6, 2020
Apply to participate in a paid Global Handwriting Data Collection Project which shall take place from May to June 2020. Panorama Research is collecting handwriting data from the following languages and nationals: Spanish, French, Italian, German, Portuguese, Japanese and Korean (All language variants accepted).
For this project, they will be collecting phone images of different types of handwritten documents, which shall be taken through the mobile phone camera and submitted to our shared Google Folders. They need documents with handwritten text, ranging from shopping lists, medical forms, school notes, diaries, journals, contracts, wills etc.
You shall collect handwriting samples of documents (through phone camera) that will be used to train our client's OCR engines to detect characters and handwriting. They need to collect 60,000 document images per language from different people across the seven languages.
About
Panorama Research is a full-service pan-African market and social research company based in Kenya, and which was founded out of the need to support international (market research) firms undertake market research in emerging markets like Kenya and Africa by extension. 
Benefits
Payment: $12,000 for 60,000 valid document images submitted, paid monthly, through Paypal for all submitted images.
Eligibility
Open to nationals of Africa, Asia, Europe and Latin American Countries: Mexico, Brazil.
All language variants accepted including. Spanish, French, Italian, German, Portuguese, Japanese and Korean
Guidelines
Acceptable photo format is JPEG (.jpg) and the resolution should be at least 1024*768 and 5MP size
Unlimited Submissions – You can submit as many handwritten document images as you can, so long as they bear different handwritings
Clear and legible handwriting.
Non-blurry images – We only accept CLEAR images of handwritten documents for payment.
Minimum of 3 lines or 3 filled blanks in each document (and 10 words)
No personal details eg names, phone numbers, tax numbers that should be submitted. Kindly blur or block these as you take the photos.
No documents with mathematical formulas
Documents need to belong to the relevant categories.
Do not submit too many documents of one category bearing one handwriting – They need DIVERSITY of handwriting – reach out to as many people from different backgrounds as you can to share the handwritten documents with you.
DIVERSITY of document formats and diversity of handwritings.
They also require that the document images be taken in a variety of lighting conditions eg natural light, room lighting, phone flash etc.
Valid Paypal Email address.
Application
For more information, visit Panorama Research.