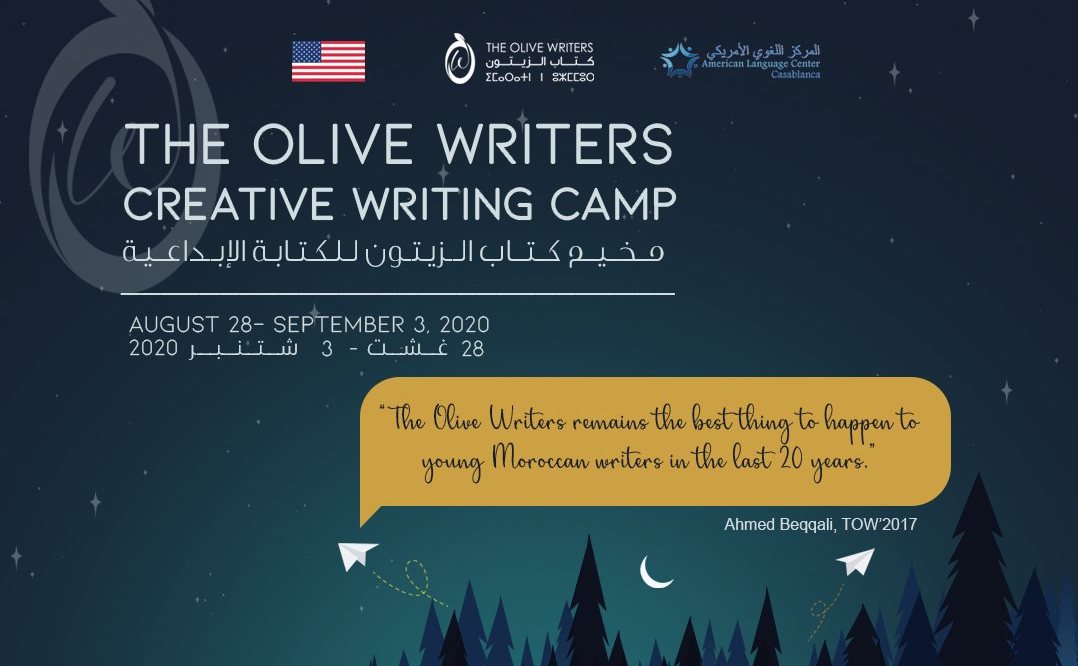 Olive Writers Summer Camp in Morocco 2020 (Fully Funded)
Deadline: June 2, 2020
Applications are open for the third edition of The Olive Writers Summer Camp in partnership with the American Language Center Casablanca. The Summer Camp, their flagship program, brings young writers from across Morocco together to spend six days at an intensive writing residency in Casablanca free of charge. The program will take place August 28—September 3, 2020 in Morocco.
The Summer Camp is co-sponsored by the American Language Center – Casablanca and the US. Embassy Rabat through the US. Department of State's Alumni Engagement Innovation Fund,  with the support of the University of Iowa's International Writing Progam and the Jazz 3/4 association.Participants will attend daily creative writing workshops (offered in Arabic or English), attend lectures by renowned writers, learn about literary translation and the publishing industry, revise and refine a creative project of their own, and become part of a dynamic community of fellow writers.
About
The Olive Writers program aims to hone participants' skills as creative writers while also putting them in contact with established writers who will serve as mentors, providing wider exposure for their creative work, introducing them to the publishing world, and granting them access to national and international support networks of fellow young writers.
Benefits
This is a fully-funded opportunity: Tuition, room, and board are provided free of charge to all accepted participants.
Eligibility
Open to emerging creative writers.
Passionate writers who are interested in developing their creative writing skills.
Anyone between 16-23.
You must be able to participate in the full week program.
International students in Morocco are eligible to apply.
Required Languages: Arabic and English.
Eligible Countries:
MOROCCO and International students in Morocco are eligible to apply.
Application
First Step: Click here to access and fill in the application form.
Second Step: E-mail your supplementary application materials (a writing sample, a writing assignment, a statement of purpose, a photograph, and an optional letter of recommendation) to [email protected] no later than June 2, 2020.
The application materials:
Writing sample — 2-3 pages (1,000 words maximum) of original creative prose and/or poetry, written in either Arabic or English.
Statement of purpose — In 300 words, describe in English or in Arabic why creative writing is important in your life. Please also discuss the difficulties or challenges you have faced in your writing, as well as what you hope to learn at the program.
A photo of yourself – Optional — One Letter of Recommendation.
Writing assignment — 1-2 pages in response to the following writing prompt:
In an essay for Financial Times, Arundhati Roy referred to the pandemic as "a portal." She wrote:
"Historically, pandemics have forced humans to break with the past and imagine their world anew. This one is no different. It is a portal, a gateway between one world and the next. We can choose to walk through it, dragging the carcasses of our prejudice and hatred, our avarice, our data banks and dead ideas, our dead rivers and smoky skies behind us. Or we can walk through lightly, with little luggage, ready to imagine another world. And ready to fight for it."
Write a piece of fiction or non-fiction inspired by this quote in which you imagine the world of tomorrow. (To read the full essay, click here).
Notes:
Both the subject line of your email and the file name of your MS Word document should be formatted as follows: "Participant's Full Name-Participant's City-TOW 2020 Application"
Please note that the writing sample (2-3 pages) and the writing assignment (1-2 pages) are two separate things
Click here to apply for writers in English or in Arabic,
For more information, visit The Olive Writers.