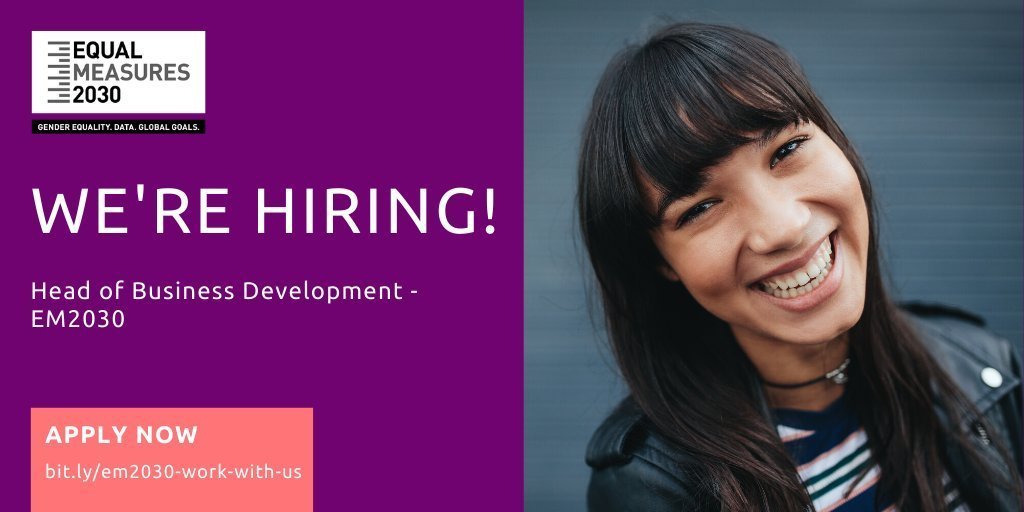 Equal Measures 2030 (EM2030) is looking for Head of Business Development
Deadline: May 31, 2020
Equal Measures 2030 has an exciting new opportunity to join them at a crucial stage in their growth as their first Head of Business Development. In this role you will work with leading gender equality and women's rights organisations at global, regional and national level and will be responsible for leading the Partnership's business development and associated strategic engagement (donor recruitment, stewardship and retention). 
They're looking for someone who has a passion for gender equality, data and advocacy and who has an innovative outlook on how to mobilise resources that will change the lives of girls and women.
As the Head of Business Development EM2030 will lead all business development and associated strategic engagement (donor recruitment, stewardship, and retention) for the Equal Measures 2030 partnership.
Equal Measures 2030 (EM2030) is a unique cross-sector partnership (hosted by Plan International) of leading organizations from civil society and the development and private sectors. They work to ensure that girls' and women's movements, advocates and decision makers have the data they need, and in a format they can use, to guide and drive faster progress towards the gender equality commitments in the Sustainable Development Goals (SDGs).
Job Details
Location: Flexible Location (Preferably Global Hub, Woking or where Plan International has a legal entity and you have the pre-existing right to live and work). Employment terms will be based on local conditions.
Type of Role: Permanent, full-time
Reports to: Director of Equal Measures 2030
Eligibility
Previous experience producing high value fundraising proposals and securing significant donations (£500K/$1M+) from major donors, charitable trusts and foundations and/or corporates in the international development and gender equality space
Demonstrated ability to initiate and grow relationships with donors and stakeholders in a diverse and multicultural environment
Experience implementing and managing simple "customer relationship management" (CRM)/contact management systems across a team
Strong writing skills and a proven ability to develop compelling key messages and collateral, working in close collaboration with Communications and Programmes colleagues
Demonstrated ability to present financial information relating to project budgets in a clear and digestible format. 
Strong decision-making skills with the ability to review complex and potentially conflicting information sets and make a clear recommendation.
Experience working effectively in a matrixed and virtual/remote working environment
Experience growing a team, including managing vendors and consultants.
Passion for advocacy and a belief in the power of data to drive change
Application
For more information, visit EM2030.